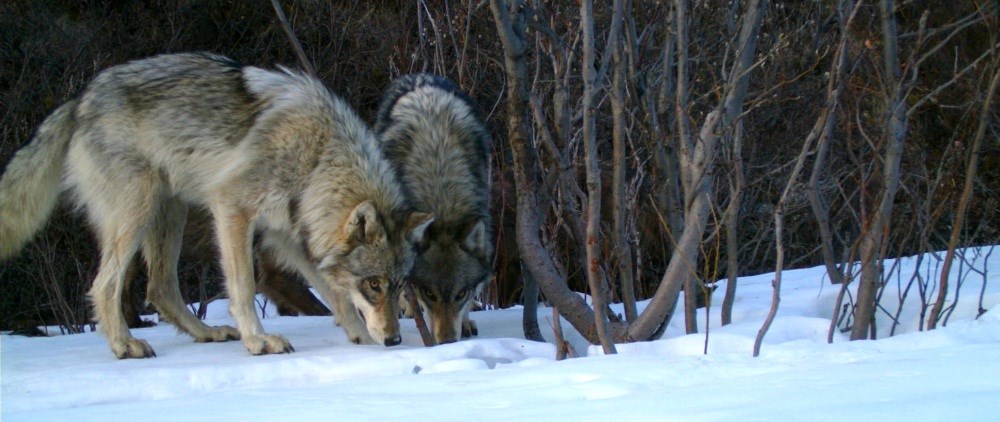 Juneau, AK (KINY) - Alaskan predator control through intensive management will lessen next year, specifically wolves and bears, according to Rick Steiner of Oasis Earth.
According to Rick Steiner of Oasis Earth, they will only be using Intensive Management in four areas with the overall number of wolves to be taken lower as well. Bears will no longer be taken in this program.
Bruce Dale, who is the Division of Wildlife Conservation's Director, says that "programs are the same as they were last year" and that bears "were last taken in 2015."
Steiner a former professor at the University of Alaska for thirty years who has been practicing conservation efforts as a global consultant since his 2010 retirement. He summarized his thoughts on the predator control programs.
"Fish and Game has had a predator control program for many years where they actually go out in helicopters and shoot bears and wolves in particular areas that they have designated predator control areas. This year they've actually just confirmed with us that they will be reducing the number of areas, the number of wolves taken in the program. For the first time in at least the past 10 years I believe, they are not planning on killing any brown bears or black bears in the context of the predator control program."
Those four areas are as follows via an email from Steiner:
GMU 19A – McGrath (moose) – objective "to reduce wolf numbers to as low as possible," expected take (kill) 5 wolves by 12 permittees
GMU 19D – Sleetmute/Holitna/Kuskokwim (moose) – objective "to reduce wolf numbers to as low as possible," expected take 12 wolves by 5 pilots/9 gunners
GMU 20 - Upper Yukon Tanana (caribou) – objective to kill 60%-80% of wolves in region, expected take 70 wolves. Note, although research has confirmed that this wolf control program has been ineffective, the state plans to continue it one final season (2018). As well, this is where the state has conducted its "Judas wolf collaring" effort in the past. It is unclear whether the 2018 program will continue this unethical practice -- we are currently trying to determine this, and are awaiting the state's answer hopefully today.
GMU 17 - Mulchatna (caribou) – wolf control area expanded from 2,870 mi2 to 10,000 mi2 in 2018, expected take 50 wolves
Total expected take in 2018 of 130-150 wolves.
Predator Control Summary Dec 2017
Steiner claims that these methods are not effective in increasing population counts of caribou and other important wildlife.
"It's a significant step they've taken to reign in this predator control effort. Many people in Alaska have been asking them to do this for years throughout the Walker administration and they had yet to take any action on it, until right now."
"But we still do feel that the take is too high for this predator control in particular areas like the Upper Yukon-Tanana region east of Fairbanks. Their own research shows that the wolf control effort there, which saw hundreds and hundreds of wolves in the past five or six years, it has not been effective in increasing the 40 mile Caribou herd."
One of the ways used to cull wolves is what Steiner called a Judas Collar. We asked to explain that method.
"This is pretty surprising to many people, but in our view it's an unethical, barbaric sort of wolf control methodology. So Fish and Game goes out, anesthetizes wild wolves, does not kill them, and puts a radio collar on them. They then let them come come out of anesthesia and then let them go back to their family group, their pack, and then the department follows them back to their pack and kills the entire pack or as many as they can."
"So that's the notion of the Judas Collar, one wolf is used to "betray" the rest of his family group. We've asked Fish and Game to stop this and so they have had agreed to suspend it, but they're going to do it one more season, right now, this winter."
Steiner also talked of a fear of these predators and talked about the political side of conservation efforts.
"There's this hatred of wolves and even of bears. There's this old, almost Paleolithic animus, towards predators in general. People are afraid of them and so they lash out."
"There's also a political symbology that people use; they hate wolves and bears and they hate people who love them and want to protect them. So bears and wolves have become a pawn in a much larger political contest between the right and the left in Wildlife Management, unfortunately. It's unnecessary and unjustified and it needs to end we think."
Lastly, we asked about what Steiner hopes to accomplish in the future.
"The scientific basis for these predator control programs is just not there, we think. Which is why we've asked for an independent scientific review by the National Academy of Sciences and the state has consented that this is a good idea, so now we need to get there with funding and commissioning that review."
"The good sign to us is that the state is reducing and restricting their predator control program this year for the first time in over a decade, that there are no bears directly being taken in that program, but also it's important for people to realize that they're still 6000 bears and wolves killed each year in Alaska through liberalized hunting and trapping regulation."
"Yet there is good here and we're going to celebrate that."
Steiner did also send us a letter that shows that Fish and Game will be maintaining a ban on photography of these intensive management, predator control methods.
Update - Alaska Fish and Game representatives contacted us on January 9th, 2018 and wanted to clarify a few points Steiner made. News of the North takes a neutral stance and the article was updated to reflect that the opinions of the individual interviewed belongs to that individual.
As always, regulations on hunting, fishing, trapping, etc are available on http://www.adfg.alaska.gov/