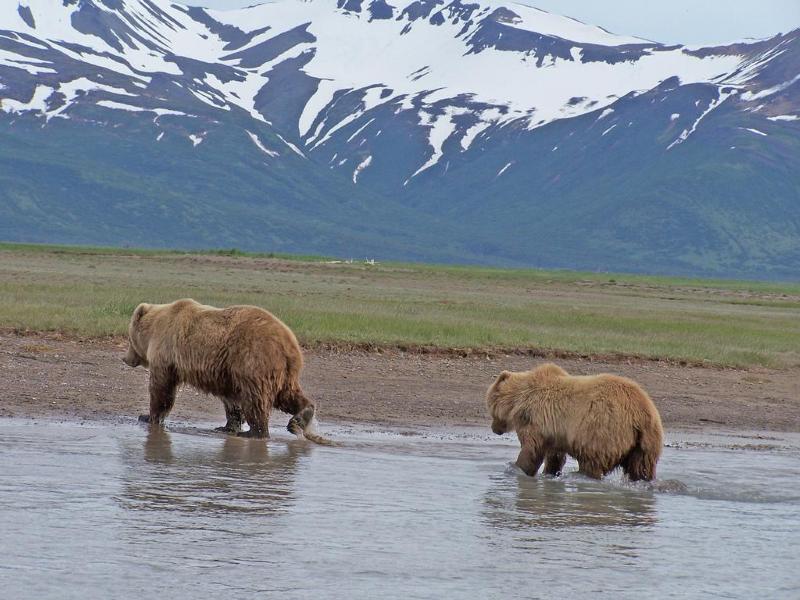 Photo courtesy of National Parks Service
Juneau, Alaska (KINY) Regional Director of the Alaska National Parks Conservation Association Jim Adams was the featured speaker at Wildlife Wednesday at the University of Alaska Southeast Wednesday.
Mr. Adams spoke on the pressures that impact wildlife and bears on national preserves. He explained the agency advocates for parks and lobby for federal funding in Washington D.C. He said it has been said that parks tell who and what America was. He said the US were the first nation to preserve valuable property for citizens.
Adams praised Juneau for the work they do on behalf of wildlife, "I had a great time. I was lucky to come to Juneau and I'm glad people care about parks, the national parks system and care about bears."
He said more data needs to be available before he could answer the question, how healthy are bear populations in Alaska. "That is a question that has a lot of different answers. I'm not sure we have enough information to answer it. I know the state is trying to reduce bear populations but we don't know how well it is working."
Adams said bears and wildlife are a big reason why many tourists choose to vacation in Alaska. Statistics showed tourists spent over $1.3 billion in Alaska in 2016. Southeast Alaska has three national parks and preserves, Glacier Bay, the Sitka National Historic Park, and the Klondike Gold Rush National Historic Park near Skagway.
Subsistence hunting is allowed on national preserves. Adams said the state has a policy to reduce predators to give hunters a better change of killing a moose or caribou. A chart he presented showed 23 bears were killed on national preserves in Alaska in the 2015-2016 fiscal year. He said the state extended the hunting season and increased bag limits for bears in the past 25 years. He also noted that on 61 occasions, they appealed to the Board of Game to change regulation since 2013 and were ignored. He noted there are no non hunting groups represented on the Board of Game.
The chart claimed up to 900 bears were killed each year in Alaska between 1990 and 2015. He said between 600-650 were killed in southeast Alaska and on the southern part of Alaska peninsula.
Adams also maintains the state does a poor job estimating the population of bears. There is a current court case in U.S. District Court in Anchorage which will ask the court to determine whether the federal or state government have the power to regulate hunting on national parks and preserves.