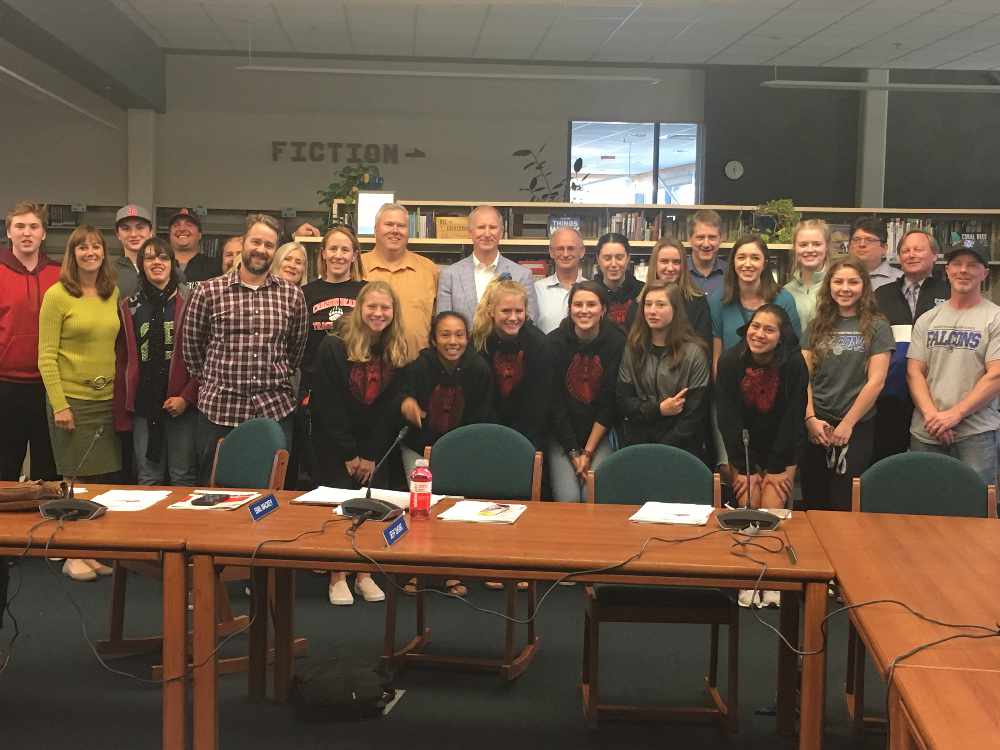 Four high school teams that won state titles are honored by the Juneau school board
Juneau, Alaska (KINY) A report on school safety, honors for four state champion sports teams, and a decision on next year's school calendar highlighted the agenda when the Juneau Board of Education met Tuesday.
Superintendent Dr. Bridget Weiss reported school open houses have been well attended this year. The student enrollment is 4,646 students, slightly about projections of 4,643. "While the overall number is very close to projections, we have a bump in enrollment in kindergarten to second grade and high school. The enrollment in middle school is really close to projections." Numbers in third through fifth grade were lower than projections.
She thanked Office Max and the Juneau Radio Center for collecting $15,000 worth of school supplies for Juneau students this year. School maintenance workers helped pick up the supplies and deliver them. Platinum Real Estate group also made a donation of backpacks and scientific calculators to the school system.
Dr. Weiss said she continues to work closely with Juneau Police, Capital City Fire Rescue on emergency response. They are in the middle of Alice training for staff members. The state provided $750,000 for safety and security projects that were spent over the last four years. There is about $35,000 left in the fund. Projects funded included evacuation kits, key card systems in schools and district buildings, telephone system upgrades and replacements, security cameras, internal and external lighting, fences at Riverbend elementary, radios, and crossing guard training and equipment.
Dr. Weiss said they are working to have all classroom doors that can be locked from inside the classroom.
The district also has hired 2.6 full-time equivalent teachers. Board President Brian Holst questioned how the over $200,000 cost will impact the budget. Dr. Weiss said the district had some bubbles in enrollment and the teacher positions were put at the high school and primary grades. "We will analyze this and take a look in December. We will have a better look at the impacts financially at that time." The agenda included the hire of 10 new teachers and one intervention specialist.
Calendar for 2019-2020
The Board adopted a calendar that will begin school August 19th and end the first semester before the holiday break.
Human Resources Director Darryl Smith said the new calendars look at the fewest impacts for families. Another factor is the end of the first semester before the holiday break. Concerns have been raised about the two-week hiatus hurting students academic performance on end of semester exams. Another factor was ending the year before Memorial Day to avoid paying employees an extra two days salary. Under contract terms, teachers are paid for work on 183 days per school year.
Board member Jeff Short said it would be tough to end the first semester before the holiday break year after year. He said there would be a cost to parents if they didn't know how the calendar was going to go. "I think those costs are both real and substantial. I will be very resistant to a change should it come up next year."
Short said the decision would also impact union contract negotiations. He said he had heard a lot of support for ending the semester before the winter break. He noted only one-third of students are in high school that is impacted by semester exams. He also spoke about the impacts of summer time employment. "We can make a big difference on the income of parents and students who are right on the edge."
He said he would only support a calendar that ends the first semester in January.
School Board member Emil Mackey said the board's job was to approve the best schedule for education. "You are going to have people that don't show up on a particular day because they want to do something else because its a family tradition or something cultural."
He said this calendar will support learning in the classroom.
President Brian Holst said the calendar committee has felt it was important to not start the year too early, and also to end the semester by the holidays. He said he has heard concerns from the public about starting school too early. "I'm not worried about consistency. I'd like, where possible, to end by December, if not possible, every few years, we understand because were not willing to start school super early in August."
Holst said having a two-year calendar gives the public notice in advance on the schedule. He said another factor is having more instructional days in the first semester compared to the second semester.
Dr. Weiss said 13 days difference in semesters would be too many in instructional days. She said other districts wanted a few more days in the spring semester due to annual state wide testing requirements. "Some teachers would feel better for having a few more days in the second semester."
Weiss said there is no magic calendar. "There is no absolute perfect calendar. It is best to get the best calendar we can."
Board member Steve Whitney said the overwhelming public sentiment and sentiment from teachers is to end the semester before the winter break. "If we ignore that, there is a huge cost, it matters, the damage to the school district if we lose the public trust, bothers me, because I don't think it has been taken seriously during this process."
He said some in-service days serve as poison pills in the calendar proposal. The proposal has teacher in-service days on August 14-16, and May 26.
Board member Josh Keaton said starting school before the Salmon Derby will lead to staff taking a day off to fish.
The approved calendar ends the first semester on December 20, would start school on August 19 and ends school May 22. It would have 82 instructional days in the first semester and 90 days in the second semester. The motion was approved 6-1 with Jeff Short opposed.
School Board member Andi Story questioned the impacts on those that work in the summer in the tourist industry and the seafood industry if school begins earlier.
Mr. Smith said the calendar was not proposed to snub the school board. He suggested four in-service days for staff from August 13-16. His suggestion was to start school on August 19 and the last day May 22. The semester would end on December 20th. Teachers have requested more time to prepare classrooms before school starts. An in-service day was moved from January 21st to August 13. Students will be required to attend school on Monday, January 21, 2020. The first semester would have 81 classroom days and the second semester 90 days, under that proposal.
The Board also honored athletes and teams that won state championships that include Thunder Mountain softball, Juneau Douglas baseball, Juneau Douglas girls soccer, and Juneau Douglas' unified track and field. Both the boys and girls track teams were also all-academic champions.