JUNEAU, Alaska (KINY) - Juneau Police say a man fired a gun from his residence and the bullet lodged in the window frame of a school bus on Riverside Drive. Inside the bus were the driver, an aide, and two students.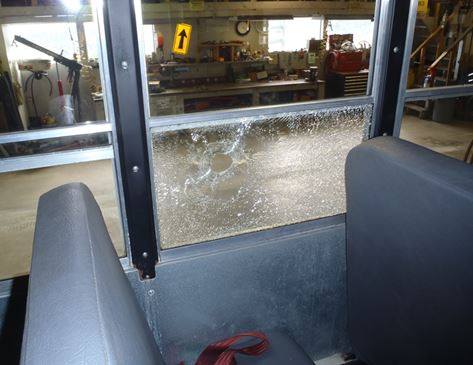 Juneau Schools Superintendent Mark Miller tells News of the North another ten or fifteen feet and there could have been a tragedy. Miller made the comment on Thursday's edition of Action Line. He also explained how the parents were notified:
Juneau Police reported Thursday morning that around 3:50 Wednesday afternoon an employee of the First Student school bus company called the Juneau Police Department to report there was a bullet hole in one of their buses.
JPD Lt. Kris Sell explained in a press release their investigation showed the bus driver saying a window of the bus shattered and two men in their 20s came running toward the bus from a house in the 9200 block of Sharon Street. Police identified a 21 year old Juneau man as the person who shot a round from a Glock 9 mm handgun through the front door of a home on Sharon Street; however they add it appears the man did not believe the handgun was loaded. Lt. Sell said the bullet struck the school bus and lodged in the window frame.
A charge of Shooting a Firearm Within a Quarter Mile of a Roadway, a B misdemeanor, has been forwarded to the City Attorney's Office.