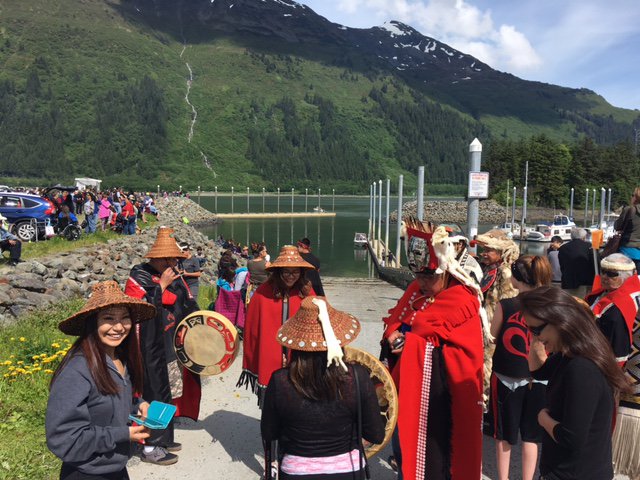 Juneau, AK (KINY) - The canoes that have come from all over the Southeast region arrived in Juneau this afternoon to hundreds of people welcoming them with cheers, drums, and songs.
It was a delightfully sunny day as hundreds gathered at the Sandy Beech docks, all waiting patiently for the first canoes that had come from so far away. Families and children awaited their fathers and grandfathers. Energy was high as friends reunited. All starting the Celebration that highlights the vibrant culture.
News of the North was there as the canoes first landed. Drums echoed across the water. Shouts and whistles were answered by those in the boats. Even from a distance, it could be seen the triumph and happiness in the faces of those on the boats as they had been traveling for days.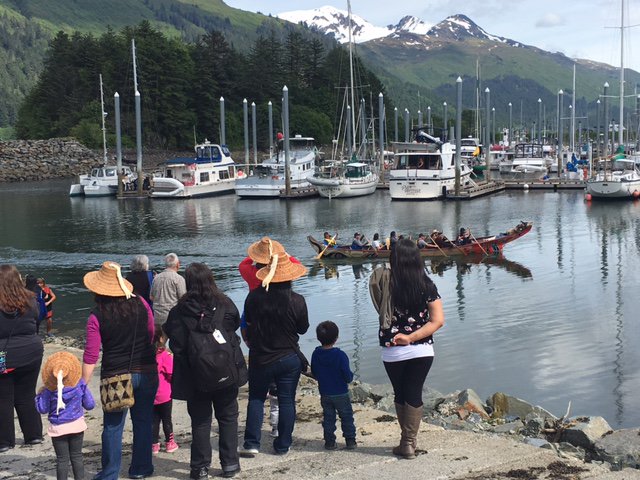 Right before the canoes appeared we got to speak with Albert Kookesh who is a director for Sealaska and also a trustee for the Sealaska Heritage Foundation.
Kookesh first explained how all aspects of Native culture are important.
"One of the things we had to do was bring attention to our culture. I've heard many times that people say that language is so important we cannot have that disappear and we believe that, but we also believe that the stories, songs, food, and all of the things we do besides the language here this week is important. We can't have a Tlingit culture with just the language, even though that is very important to us."
He hopes to see Celebrations for many years to come.
"We have to have the source, the songs, the Tlingit names, the food, and we are celebrating all of that, we're not just coming here just to have a good time, we are bringing to the attention of the world that we are still here and we are still alive after 10,000 years. We hope that 10,000 years from now we will still be having Celebration."
We also caught up with David Katzeek, who is the Leader of the Shangukeidi clan, Thunderbird of Klukwan. Katzeek talked to us about the beginnings of Celebration.
"Two Elders, one by the name of Joe White and another William Johnson desired for the people to come together and begin working on our language, our history, our music, everything that represents us as a people. So all the people from the IRA Council to the City Council to ANB and ANS and the Tlingit and Haida Community Council Institutions and also the Clans of the different communities were all invited to come to this area."
Katzeek also talked to us about the importance of history and talked about early education systems.
"What most people will see they will call artifacts, but one of things that I appreciate about Celebration is that these represent the history of our people. History includes everything, including education and the knowledge that our people had long before there was an educational system in this area, our people had a very sophisticated educational system."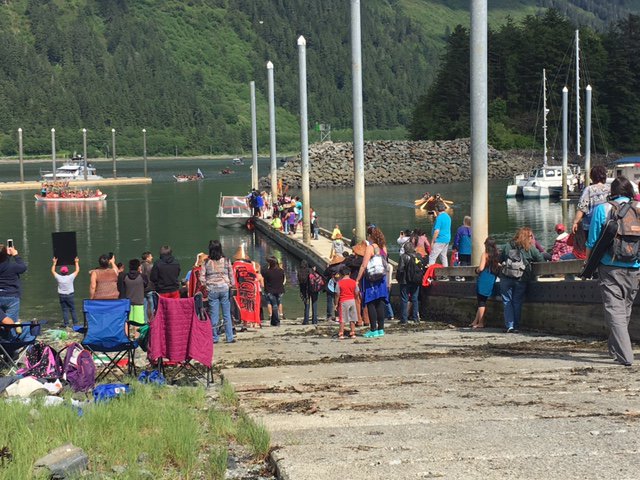 During that first Celebration in 1982, the Elders trusted that to keep the culture alive, they had to invite others from all over to celebrate.
"What you are seeing here right now, as much as many people would lay claim to what you're seeing, the thing of it is that those Elders that we had that met around the table understood who we are as a people and a lot of what I would consider faith and belief. All we had to do was put out an invitation."
Katzeek offered that invitation to as many as he could.
"I personally called almost every different organization and institution and said you're invited."
With this arrival, Celebration has begun inviting everyone to come learn and be a part of what makes Alaska so unique. It is one of the largest events in Juneau and there are things happening all around town through the week. Schedules can be picked up at the Sealaska Heritage Store or at Centennial Hall. There is also more information on the Sealaska website.