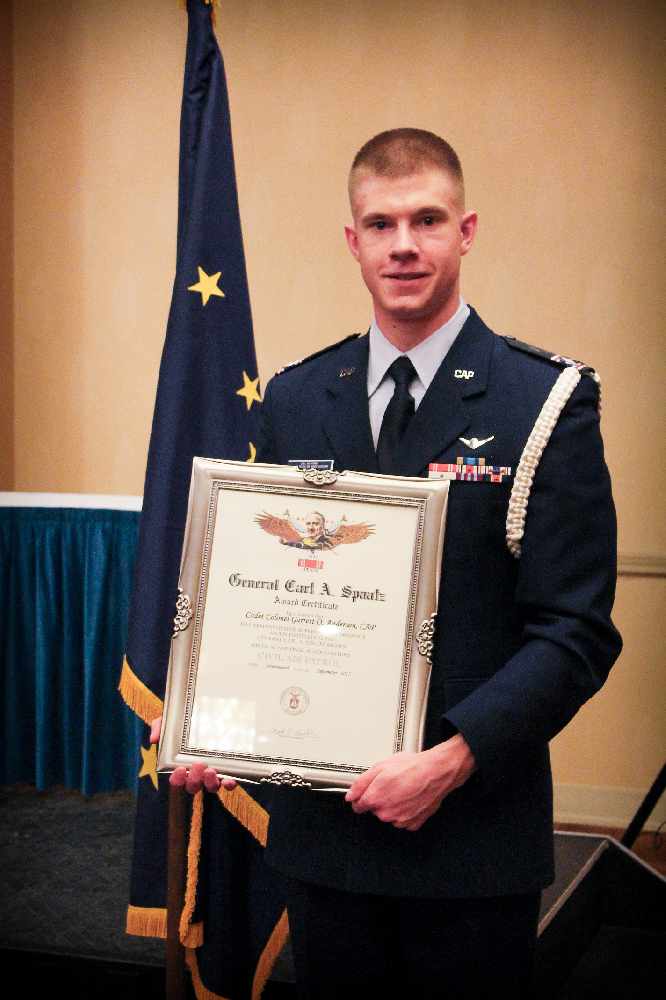 CAP Cadet C/Col Garrett O. Anderson, Birchwood Composite Squadron, Alaska Wing. Photo by Sierra Mains.
Anchorage, Alaska (KINY) Cadet C/Col Garrett O. Anderson was awarded the General Carl A. Spaatz Award, the Civil Air Patrol's highest cadet award on Saturday, October 7, 2017 at the Alaska Wing Annual Awards Banquet.
Cadet C/Col Garrett O. Anderson describes what the Spaatz Award means to him, "The Civil Air Patrol (CAP) provided a life-changing experience that revolutionized my approach to life. Through the cadet program, I developed a keen interest in leadership and mentoring other cadets and youth in my community. I initially joined the cadet program because of my love for flying and did not have much interest in the leadership aspect of the program. However, that quickly changed as I gained responsibilities and found joy in helping other people."
Anderson said he was taught several things by his service in the Civil Air Patrol, "Whatever your situation is, you can use them to develop your abilities, grow, and become part of something bigger than yourself.
The General Carl A. Spaatz Award is the Civil Air Patrol's highest cadet honour. It is presented to cadets who have demonstrated excellence in leadership, character, fitness, and aerospace education. The fifth, and final, milestone in the cadet program, the Spaatz Award is the result of years of effort and service. To earn the General Carl A. Spaatz Award and the grade of Cadet Colonel a cadet must complete a rigorous four-part exam consisting of a challenging physical fitness test, an essay exam testing their moral reasoning, a comprehensive written exam on leadership, and a comprehensive written exam on aerospace education. On average, only two cadets in one thousand earn the Spaatz Award.
Lt Col Matthew Komatsu was the evening's Guest Speaker. Matthew Komatsu is an author and currently serving veteran of the wars in Iraq and Afghanistan. In 2014, he enrolled in the University of Alaska-Anchorage's MFA in Creative Writing program as a Nonfiction candidate. He has published essays and reviews in The New York Times; War, Literature and the Arts; Brevity; Story South; Stoneboat Literary Review; METER Magazine; The Southeast Review; The Sierra Nevada Review; The Normal School; Foreign Policy; The Millions and on stage at Anchorage, AK's Arctic Entries. His work has been nominated twice for Pushcart Prizes. https://matthewkomatsu.com/
Other awards earned that evening and their recipients include:
- General Ira C. Eaker Award: Cadet C/Col Garrett O Anderson
- General Ira C. Eaker Award: Cadet C/Lt Col Kyle E Anderson
- General Billy Mitchell Award: Cadet Kallan M. Yesuvida
- Incident Commander of the Year Award: Lt Col Jim Mullin III
- Aircrew of the Year: Col Douglas Staats and Capt Chet A Harris
- Certificate of Recognition for Lifesaving: Capt Joel Thomas, 2d Lt Julian L Garcia, SM Martin L Smith, Maj Robert C. Thomas, 2d Lt Matt Needom, Capt Daniel Roth, SM Marcel Krenzelok,
- Senior Member of the Year: Lt Jeffrey Platz
- Senior Member of Distinction: Capt Ute Irmgard Kaden
- Cadet of the Year: Cadet C/Col Garrett O Anderson
- Quality Cadet Unit Award: Eielson 71st Composite Squadron
- Squadron of the Year: Birchwood 76th Composite Squadron
- Meritorious Award: Lt Col Anthony R Mollison
The Awards Banquet was preceded by classes in various disciplines including communications, emergency services, public affairs, aerospace education and operations among others. Col Carl Brown is pictured leading the morning's General Assembly.
Civil Air Patrol, the long-time all-volunteer U.S. Air Force auxiliary, is the newest member of the Air Force's Total Force. In this role, CAP operates a fleet of 560 aircraft, performs about 90 percent of continental U.S. inland search and rescue missions as tasked by the Air Force Rescue Coordination Center and is credited by the AFRCC with saving an average of 80 lives annually. CAP's 57,000 members also perform homeland security, disaster relief and drug interdiction missions at the request of federal, state and local agencies. CAP also plays a leading role in aerospace/STEM education, and its members serve as mentors to 24,000 young people participating in CAP's Cadet Programs. Visit www.GoCivilAirPatrol.com for more information.