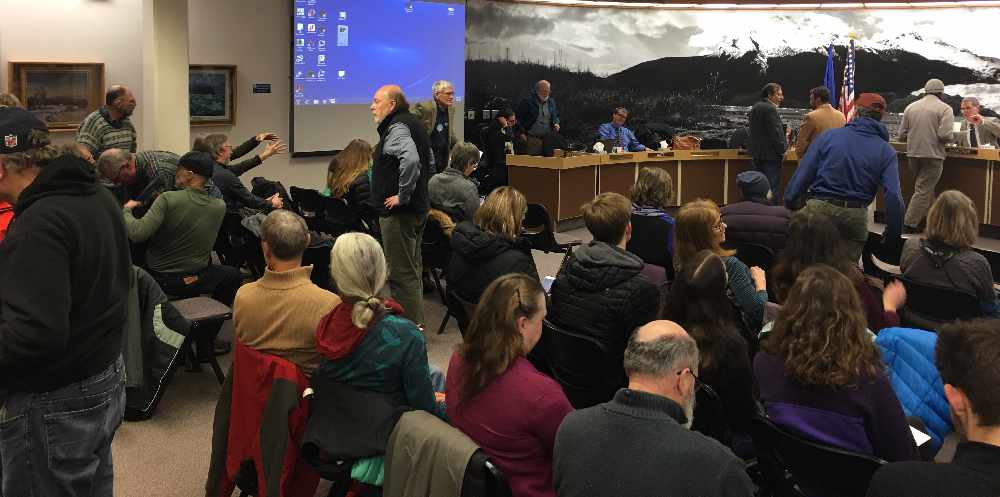 Juneau, AK (KINY) - Citizens turned out in droves to support the Juneau Renewable Energy Strategy during the Committee of the Whole meeting on Monday night, filling City Hall's space.
After a presentation from the Juneau Commission on Sustainability, there was a lot of questions on what exactly the Committee of the Whole would be agreeing to. Duff Mitchell, the Chair of JCOS, assured that the plan was broad and the minute details could be determined later on. He called it a compass, rather than a map.
"It's not a map where you are going to check off every mile marker, it's going to change. When we started this there was only a handful of electric vehicles, now we're pushing over 250. We had one charger, now we have a dozen. So it's evolutionary. In the end, it's just a compass."
The plan has four priority strategies that were discussed during the meeting:
Implement a CBJ Energy Management Program to make the organization a leader in energy efficiency and adoption of renewable energy
Reduce Juneau's dependence on fossil fuels for space heating
Reduce Juneau's dependence on fossil fuels for transportation
Support efforts to provide new renewable energy supplies for Juneau
Mitchell explained the direction and how important renewable energy is to Juneau
"What we have is we have a directional azimuth, not an exact step-by-step plan, but it's a good way to show where our community needs to focus and where we're going to head in the future. You can tell by the room having as many people as it did and in the number of comments that came in, this really reflects our community, but by the same token, it's not a forcing document, it's a directional document."
The plan has been in development for quite some time.
"The Climate Action Plan that said we will draft an energy plan started in 2011. The Commission took this up about 4 or 5 years ago and started working on it. A lot hours were put in, this is a very meaty topic and a lot of different inputs. We've had AEL&P inputs, other people's inputs, we've had consultants. We've to to keep it cheap too, we're not trying to spend a lot of money. One of the consultants wanted a half a million dollars; we felt that money could be better spent and that we could do this internally with our people and putting our heads together."
The Renewable Energy Plan was adopted by the Committee of the Whole, while the Mendenhall Riverbank Stabilization Project was tabled for another meeting. Those gathered applauded at Juneau taking a stand against climate change and pushing towards a brighter future.