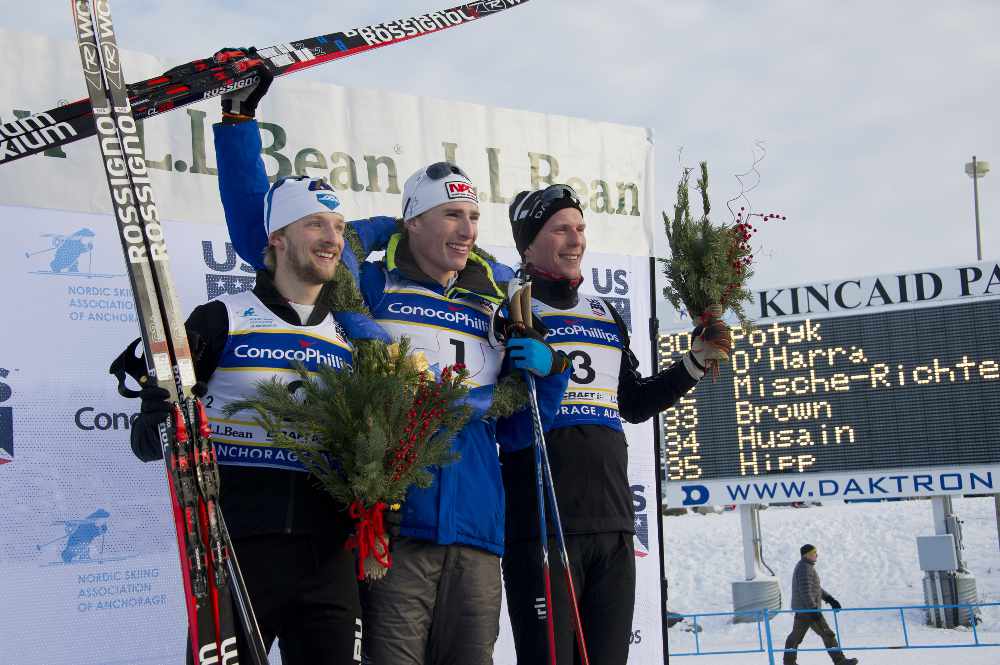 MICHAEL DINNEEN PHOTOGRAPHY Anchorage's Tyler Kornfield, center, is all smiles after winning a grueling 30 K Sunday. Eric Packer, left, was second, and Norway's Eivind Romberg Kvaale, right, was third.
Anchorage, Alaska (KINY) Caitlin Patterson continued to dominate Sunday at the L.L Bean U.S. Cross Country ski championships at Kincaid Park.
Patterson said she didn't have an answer for her dominance after finishing as the fastest American woman in Sunday's 20K mass start classic race (University of Colorado's Hedda Baangman of Sweden was the race's official winner). When asked if she expected three Nationals titles in three events, even the comfortably confident Patterson shook her head. "This is very cool," said Patterson, who graduated from South Anchorage High School before racing for the University of Vermont and settling in Vermont. "I wouldn't have imagined this."
Meanwhile, everyone knows exactly what Anchorage's Tyler Kornfield (APU Nordic Ski Team) can do on skis: he's a classic sprint killer, a perennial podium resident in the event at Nationals and owner of two titles (2010 and 2012). Those supreme sprint skills, and a Kincaid Park familiarity, gave the tall, double-poling machine the edge as he burst away from a tight pack of seven skiers in the final stretch of the grueling men's 30K event for his first classic distance National crown. "Two (kilometers) out, I felt fast and knew I had to make my move," said Kornfield, who has that final sprint stretch ingrained in his muscle memory having trained and raced on it for years. "And I knew if I didn't go hard, I'd regret it for the rest of my life."
That determination quickly turned into an explosion of emotion, a yell and an emphatic two-pole fist-pump when he crossed the finish line at 1 hour, 21 minutes and 43.6 seconds. How dramatic was the race's ending? In a field of 54 finishers, four skiers crossed within two seconds of Kornfield; two more were within three seconds. Kornfield's APU teammate Eric Packer was closest, just .7 seconds back. Norway's Eivind Romberg Kvaale (University of Denver) was third overall at 1:21:44.7, followed by Nordic legend Kris Freeman (Caldwell Sport), the third-fastest American at 1:21:45.2. "I looked at the course yesterday and thought about it last night," Kornfield said. "And in my mind, I pictured how I could win it. … But it's unbelievable. I've never had emotions like this after a race."
Packer was all smiles, adding, "It was a really high-speed race out there. … The APU coaches gave us really good skis to be able to go 1-2."
While Kornfield was demonstrative in his win, Patterson was businesslike when she crossed the finish line almost 16 second behind Baangman's 1:00:55.3. Patterson (1:01:11.2) had almost four seconds on third place Rosie Frankowski (APU Nordic Ski Team), the second American finisher at 1:01:14.9; Jessica Yeaton (APU), an Australian national who moved to Alaska when she was 12, was fourth overall at 1:01.39.4; and Kaitlynn Miller (Craftsbury) was fifth overall and the third American finisher at 1:02:08.9.
Miller was pleased with her finish and equally stoked for Patterson, her teammate and training buddy who continues elevating her case for a ticket to February's Winter Olympics in Pyeongchang, South Korea. "It's really exciting to come to these races (in Alaska) and watch her excel like this," Miller said. "I train with her day in and day out, and we're all very, very impressed."
Frankowski, who has competed against Patterson for years, added, "I really hope they take her to the Olympics."
After the first of four trips around a hill-heavy loop, Baangman, Patterson and Frankowski pulled away in a pack and stuck together until the race's final big, long climb. Patterson's chance at a third straight win slipped away as Baangman hammered that hill and Patterson slid behind on skis that were light on kick wax and legs that were burning from her busy week. After the event, Patterson paid Baangman respect for her strong finish and mean climbing skills, then talked about the grit that got her second place overall and a fifth National title. "It was more about mental toughness for me today," said Patterson. "I was a little fatigued and it's a long race, and I was struggling with my skis. It would have been easy to give up, but I just had this constant positive self-talk. Every moment, I believed in myself."
Frankowski was feeling pretty darn good about herself, too, after notching the best Nationals finish of her career on a course that was lined with loud, local fans. "This Anchorage crowd – there was never an area where people weren't screaming for me," she said. "I feel like I was on the World Cup!"
The day's loop course was something of a screamer, too – a 5.28K tour of Kincaid Park's finest and toughest trails that the women had to ski four times and the men had to complete six times. It hit Elliott's Climb, followed by a zip up and down the Roller Coaster, then a friendly straightaway down Dark Alley, followed by a series of sharp corners and climbs in the Gong Hill area, which brought skiers back into the stadium through a tunnel for the final 2-kilometer stretch to the finish area.
The day's mass start classic racing wrapped up with a pair of Juniors events.
APU's Hannah Halvorsen won the female 5K, followed by University of Alaska Anchorage's Hailey Swirbul, the Nordic Ski Club of Fairbanks FXC's Kendall Kramer (who is a U16 racer), Methow Valley Nordic's Novie Mccabe (U18) and Montana State University's Kathleen O'Connell.
APU's Hunter Wonders won the male 10K, followed by Stratton Mt. School's Benjamin Ogden (U18), APU's Canyon Tobin, University of Vermont's Karl Schulz and APU's Luke Jager.
Complete results from all of today's races are available at www.superiortiming.com/tag/nordic-skiing/.
This week's races crown National champions and are also used as part of the selection process for Olympic berths and to determine roster spots on the FIS Junior World Championship, U23 Championship and U18 Scandinavian Cup teams. While primary selection for the 2018 Olympic Cross Country Team comes from World Cup races, some final spots can be determined from Nationals results. Olympic team nominations will be announced the week of January 23.