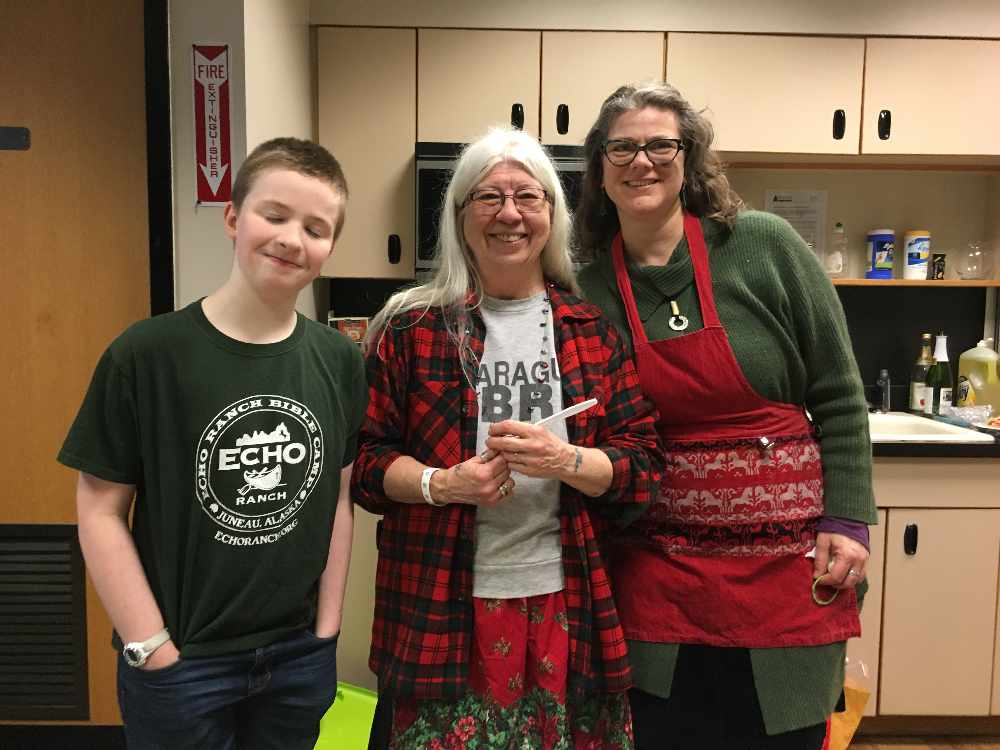 Fifth grader Levi Grieser, LuaAnn Gagne and Library Events Coordinator Beth Wiegel
Douglas, Alaska (KINY) Local entertainment, Christmas Carols, and treats kept spirits up at the Douglas Community Library as they celebrated the Winter Solstice.
Library Branch Manager Andi Hirsh said she loves the winter solstice tea, "This is amazing. It is such a great event because its people that come together, have a good conversation, have some treats, and celebrate that were getting more light back."
She said former Manager LuAnn Gagne, who retired in July came up with the idea. This is the second time they have held the event. There were visitors of all ages, "It is so much fun. I love it when we have multi generational events and groups of people. I think its the best."
She said the library is available for a lot of different purposes, books, movies, magazines, and events. She said some are educational, some are recreational. "This leans on the side of recreation which we think is great. We just love everyone who comes and uses the library."
Activities Director Beth Wiegel said she was very happy to see the turnout, "We have a lovely group of people. We had sandwiches, cookies, tea and other treats. Everyone seemed to have a really good time."
She said this shows the spirit of the community when it comes to the shortest day of daylight.
"I think Alaskans love to welcome back the light. It has been a beautiful day and this is a fun event," she added.
A group of kids from Montessori School came by and provided several Christmas carols for the group. Several others provided entertainment.