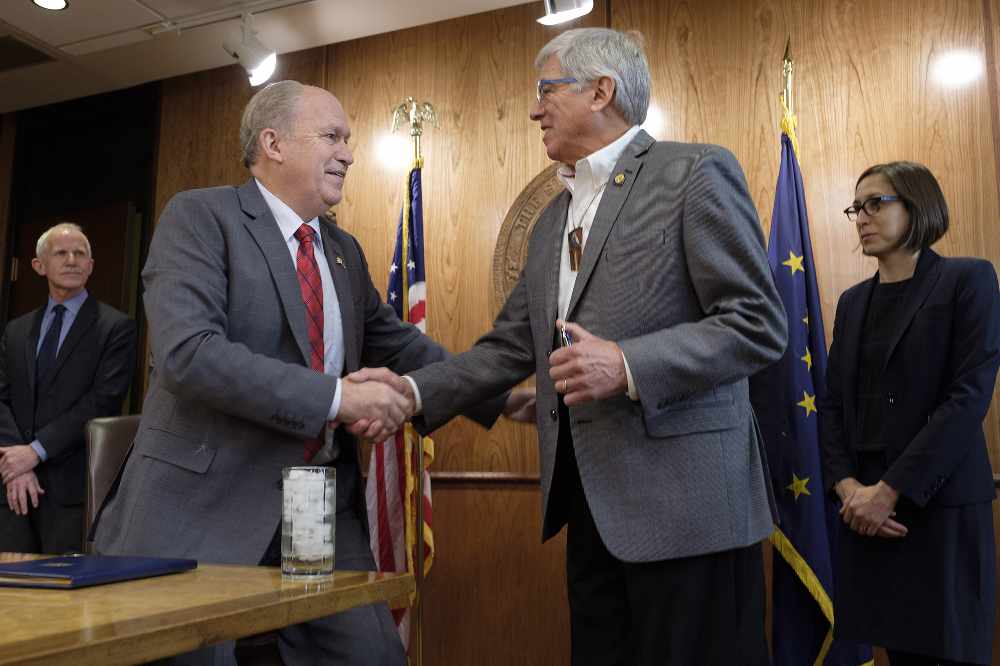 Governor Bill Walker and Lt. Governor Byron Mallot at Tuesdays press conference on climate change
Juneau, Alaska (KINY) The Governor approved creation of an Alaska Climate Change Strategy this morning.
Governor Bill Walker created the Climate Action for Alaska leadership team today and also signed an executive
order on climate change.
He said Alaska has been affected more than other US states by climate change. He says they can still develop resources
and be kind to the environment, "They are not incompatible in any way in fact one is necessary for the other."
He said at least 12 Alaska rural villages will have to be relocated due to climate change and doesn't expect help from
the federal government, "I"m not confident that the federal funding will come through for village relocation."
Lt. Governor Byron Mallot will head up the new leadership team. He promised the group will be filled with the best and brightest of Alaska and also include representatives from groups mostly impacted by climate change. He said the team should help rural Alaska villages, "Villages that are dealing that are evolving with permafrost and all the manifestations of climate change, increases in temperatures, and water levels rising."
Walker said he was moved by testimony by rural village residents last week at the Alaska Federation of Natives People convention in Anchorage. One teen stated they must travel 150 miles to hunt where previously game was readily available within miles of his village, Gamble.
The Strategy creates a flexible and long-lasting framework for Alaskans to build a strategic response to climate change informed by the best available science, integration of indigenous and local knowledge, and consideration of Alaska's economic interests. The order also calls for State departments to review their previous work on climate change, and identify immediate adaptation and response actions they can take.
"Alaskans should be at the forefront of innovation and response," Governor Walker said. "In addition to developing solutions that ensure community and economic resilience while mitigating environmental harm, we must also engage with national and international partners to strengthen Alaska's voice in global decision-making. We will support the goals of the Paris Agreement while ensuring that Alaskan communities and businesses have the resources and opportunity to benefit from the global response to climate change."
The Climate Action Leadership Team will be composed of a diverse group of stakeholders from across the state, who will build on past research and policy recommendations to update and inform new policy priorities. Lt. Governor Byron Mallott will chair the 15-member team; the Governor will appoint members later this year. Applications from interested citizens are being accepted until November 14, 2017. The Leadership Team will also form subcommittees of non-members, who can provide expertise on specific issues.
The Climate Action Leadership Team will provide preliminary recommendations and progress reports on a quarterly basis, before delivering an initial recommended plan of action to the Governor by September 1, 2018. The plan will outline achievable actions in the four focus areas of mitigation, adaptation, research and response with the aim of fostering cross-sector partnerships and activities.