Win $10 for spotting JPD Chief Bryce Johnson biking around town, and there's a new grand prize this year for spotting City Manager Rorie Watt.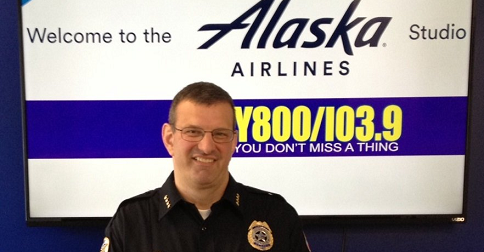 The Juneau Police Department will be starting the fourth annual "Spot the Chief" campaign soon.
This program is to encourage drivers to see and pay attention to bicyclists which reduces accidents, and prevents injuries.
Police Chief Bryce Johnson will ride around different areas of Juneau wearing a "spotted" bike jersey during the month of June. Drivers who "spot" Chief Johnson can call JPD once they have arrived safely at their destination or stopped their car to safely make a phone call. The driver will just need to report where they saw Chief Johnson riding and the time they saw him, and they will be rewarded with a 10 dollar bill.
An addition this year is the opportunity to "Spot the Manager" for a grand prize. This year, City Manager Rorie Watt will also don the spotted jersey for a ride around town. Drivers who "spot" the Manager and follow the rules above, will receive a 25 dollar grand prize.
The Capital City Chapter of the Alaska Peace Officers Association is again donating the money for the prizes. JPD would like to thank APOA for their continued support.
JPD encourages motorists to watch for bicyclists and pedestrians at all times. Through the month of June, keep a particularly sharp eye out for Chief Johnson and City Manager Rorie Watt in their spotted jerseys.
Once you spot them, and are no longer driving, call 586-0600 to claim your prize.