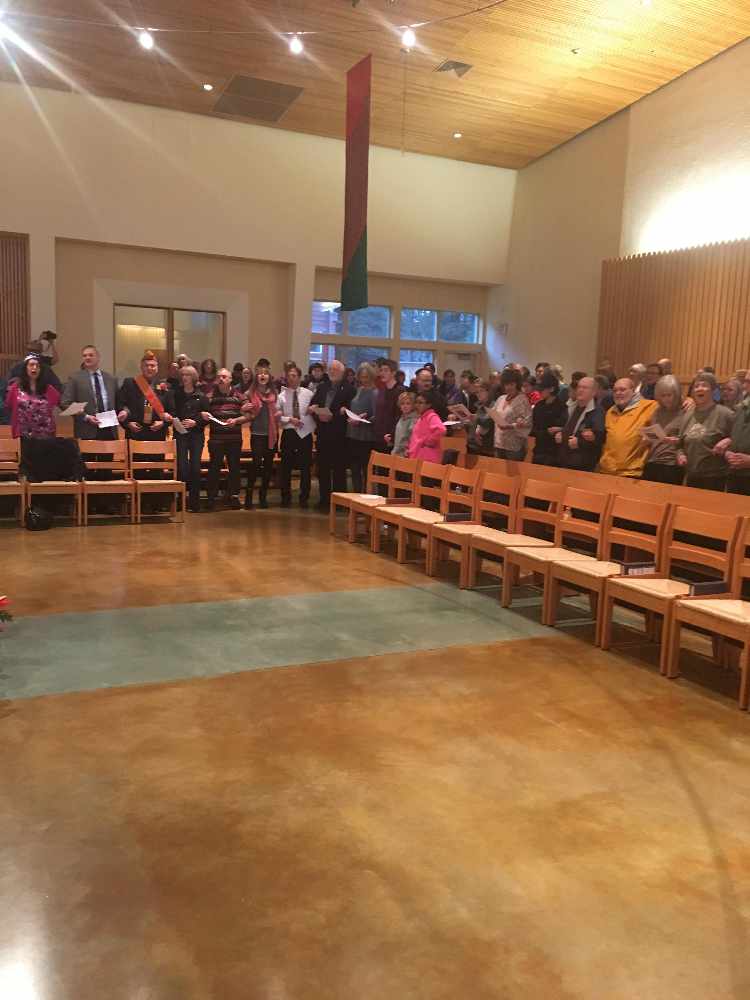 Juneau residents lock arms while singing We Shall Overcome
Juneau, Alaska (KINY) Moving music and speeches highlighted the annual observance in Juneau.
The dream still relevant was the focus of the annual Dr. Martin Luther King junior observance in Juneau Monday.
Keynote speaker this year was Sherry Patterson, President of the Black Awareness Association.
She grew up in Louisiana in the height of the Jim Crow era. She says she was pleased with the turnout and how the event went. She said her focus was what can Juneau do as a community to keep his dream alive and push it forward. She said Dr. King would give this message if he were still alive. "We still have work to do, he would say, we have come a long way but we have a lot of work to do."
She said the discrimination she faced as a child in the deep south gives her a different insight, "That makes me more passionate. We need to bridge gaps and move forward every day just like Dr. King said. We need to bring justice and equality."
She said she chooses not to hate but to love and forgive. "We choose love and we go forward. We refuse to let anybody cause us to hate because it paralyzes us and we can't accomplish anything."
She said the discrimination that bothered her the mother had to address little white boys and girls as ma'am and sir and they called her a gal, "I didn't like that at all and it still bothers me. My children will never know the things that I had to live through."
She encouraged the people to do something this year to better this community.
There were special messages from the Mayor Ken Koelsch and many leaders attended including the Lt. Governor Byron Mallott.
Jocelyn Miles and Salissa Thole provided special music.
Sasha Soboleff urged the crowd to love and not hate, "Its time for society, not just in the United States, but in Juneau, to recognize that there is lots of work to do out there. Somehow we have fallen short of it. Today's remembrance helps remind us that we need to do better than we are doing.:
He said more volunteering and helping the unfortunate would be his message from the observance, "You can't succumb to the saying you can't do this becasue you are who you are. You are endowed with freedom and ability to do things, it makes no difference what color you are, how old or how young you are, how tall or short you are, how educated or not educated, you are part of God's kingdom."
Soboleff said if Dr. King was alive today he would not be pleased with the state of the world, "He was on a God given mission. Something had to begin to have positive things happen. He gave his life for that effort. My father was like that. He gave his life so that others would have hope in the face of staggering losses and odds."
Pastor Phil Campbell of Northern Light United Church and Doug Dye of Chapel by the Lake provided prayers for the gathering at St. Pauls Church.