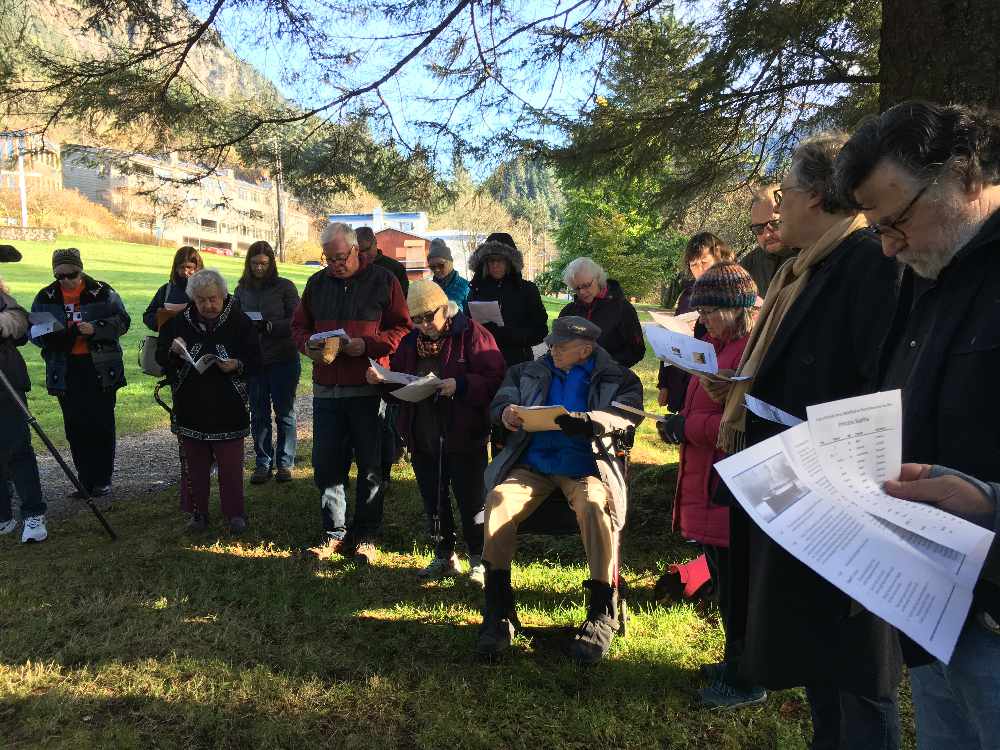 Juneau residents at a short service to remember the loss of Princess Sophia
Juneau, Alaska (KINY) The 99th anniversary of the loss of the Princess Sophia drew a small crowd to Evergreen Cemetery on Wednesday.
The 15 minute ceremony at the grave of Walter and Frances Harper, included readings, Psalm 19, prayer, and blessings stated by the REverend Gordon Blue of the Church of the Holy Trinity in Juneau. He said it was an honor to officiate the service, "I've been here in Juneau for four years and I'm following in Mark Boesser's footsteps. it is wonderful how he has cultivated this gathering. Real honored to keep carrying this on."
The 100th anniversary next year will include a marker to be placed on the path to Eagle Beach commissioned by the Pioneers of Alaska. The Orpheus Project will also premiere an operatic work to commemorate the sinking of the Sophia next October.
Arch Deacon Mark Boesser read some remarks from a Episcopal Missionary Priest who traveled across Alaska with Harper, Hudson Stuck, who co-led the expedition on Mt. Denali in 1913. Mr. Harper was the first man to summit Denali on June 7, 1913.
"As a boat operator, dog team handler, he was past master. Using rifle, axe, any type of boats, or dog teams, he had few superiors in Alaska. I would rather he be by my side in times or stress or danger than anyone I ever knew," he read.
Mary Lou Spartz has spearheaded many of the events over the years. She said she was pleased with the turnout Wednesday and that she looks forward to a great series of events next year.
"It is always great to be here. It was a very nice response. It has been wonderful to see the people show interest and move ahead with projects. It has just been an amazing response."
The ship was making a the last trip of the season from Skagway toward Vancouver when it ran aground at Vanderbilt Reef on October 25, 1918. Attempts were made to rescue the passengers and crew but weather got too severe. When rescuers returned the next day there was nothing left. Spartz said Canada is also planning some ceremonies as well next year.
"We have no idea what went on aboard. The ships were owned by the Canadian Pacific Railroad. They came along the Coast to Skagway and brought passengers and freight. They hit several ports on their route."
Blue said the world should not get complacent about travel and that disasters like this can still occur. "After 100 years of navigation we have learned a few lessons. We have better systems but things like this are still possible. Hopefully we won't repeat it."
Blue ended the ceremony with a short blessing, "Life is short and we haven't much time to gladden the hearts of those who travel the way with us. So be swift to be kind and make haste to love. May God's peace be with you always."