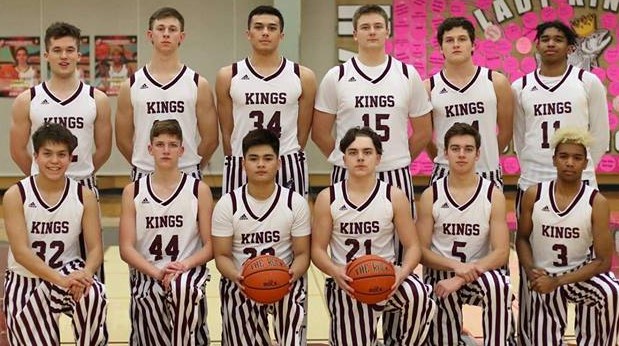 The 2019 Kayhi Kings boys' basketball team.
Anchorage, Alaska (KINY) - For the first time in 45 years, the Kayhi Kings are your 4A state champions in boys' basketball.
After trailing by double digits for most of the game, the Kayhi Kings boys' basketball team came back in overtime to win the Alaska high school 4A state championship over Dimond 57-53 on Saturday night in Anchorage.
Chris Lee was the catalyst with three treys in the fourth quarter, even as Dimond double-teamed him on numerous occasions.
Then they went to overtime at 50-50 ... and then Kristian Pihl made a three-pointer, followed by a Marcus Lee two-pointer.
And that gave Kayhi the 57-53 lead for the win. They entered the tournament as the No. 8 seed and defeated No. 1 East Anchorage on Thursday night before beating Soldotna on Friday to earn their trip to the big dance.
Leading for Kayhi, Chris Lee had 28 points in the win; he had four three-pointers in the game and 10 rebounds. Chris' brother, Marcus Lee, finished with 14 points and six grabs under the basket. Combined, the Lee Brothers were 5-10 from beyond the arc.
Both of the Lee brothers were selected to the All-Tournament Team.
The rebounding for Kayhi was a big deal with the Kings going 27-19 over Dimond. The Kings were 9-15 from the line and 50 percent from the field.