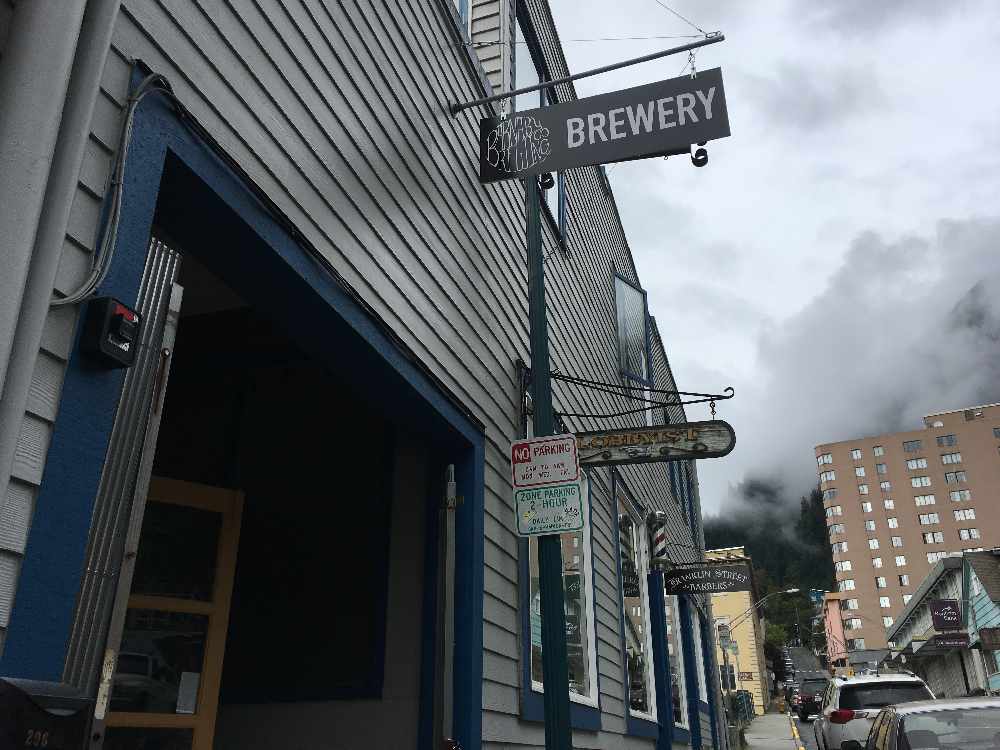 Juneau, AK (KINY) - After seeing the biggest brewery in Juneau, Alex decided to seek out a smaller brewery. This led him to the Barnaby Brewing Company downtown, where he talked extensively with the owner, Matt Barnaby.
Barnaby's taproom is definitely easy to miss, but it's just a couple blocks up the hill from the Alaskan Hotel. Going down the stairs, it looks more like a basement than a brewery, but rounding the corner greets guests to a quaint little space that serves some of the best brews in Juneau.
Known mostly for their Spruce Tip Beer, Barnaby is also serving some of the best Root Beer I've ever had. Their brews are done in small batches, rotating out special recipes or experiments every now and again to keep things interesting.
I approached Matt Barnaby, owner and brewer, about telling me his story, the brewery's origins, and his thoughts on the significance of brewing in Alaska.
Hailing from South Carolina, Matt Barnaby moved to Alaska in 2003 where he spent time in Sitka and Kodiak with the Coast Guard. When he left the Coast Guard, he went back down south to start his college schooling, later transferring to UAS to finish his Bachelor's in Biology. Soon after, he got a job with the State.
The brewery actually started as a response to possible layoffs at the state level.
"When they made their first rounds of layoffs from the budget cuts, I got a little nervous," Barnaby explained, "For most of my life I've worked in the government and when they weren't hiring that's what motivated me to start the business. I never got laid off though, so here we are with the business. I still work full-time with the State.
After a laugh at the irony, I asked him about the significance of using local ingredients to craft his brews and the value that holds.
"In Alaska there's this grassroots effort to have things produced and manufactured locally, especially with the high cost of things being shipped in and out. Just the same as baking a local loaf of bread, that same value is in beer."
Local ingredients are a major focus for Barnaby. He hopes to have a complete representation of Alaskan flavors in the future.
"I really like incorporating local ingredients. Right now I'm trying to isolate some wild yeast from salmonberries. There are hopes that we'll eventually have some Southeast grown hops and Alaskan barley. We hope to have a truly all Alaskan beer where the yeast, grain, and any other flavors, the water of course, all comes from Alaska."
I also asked Barnaby about any significant moments so far in owning a brewery.
"We are super young still," he said with a chuckle, "but our California Common that we call McSteamy placed Gold at the US Open, a national, professional brewery competition. That was super exciting; when we submitted that beer, we had maybe been open for about a month."
Asking about Barnaby's goals in the next six months or so, Barnaby had this to say.
Barnaby Brewing Company will be at the Capital City Brewfest this weekend. They will also be going to the Great American Beerfest in Denver alongside the Alaskan Brewing Company. After that, Barnaby is hoping to expand outside the taproom and prepare for another summer season.
Find the Barnaby Brewing Company at 206 North Franklin Street.
Certainly, Juneau has a rich brewing culture both in small scale brewing and full-scale production. Alcohol like the Spruce Tip Beer or the Amber are major points in Alaskan history and keeping those recipes alive keeps us connected to the past.
Now that I've learned a ton about beer in Juneau, maybe it's time to check out some of the natural pleasures in the area. I hear gold panning is pretty fun.
Where should I go next in my journey to learn about Juneau? Find me on Twitter @AlexMcCKINY or send an email to news@abcstations.com