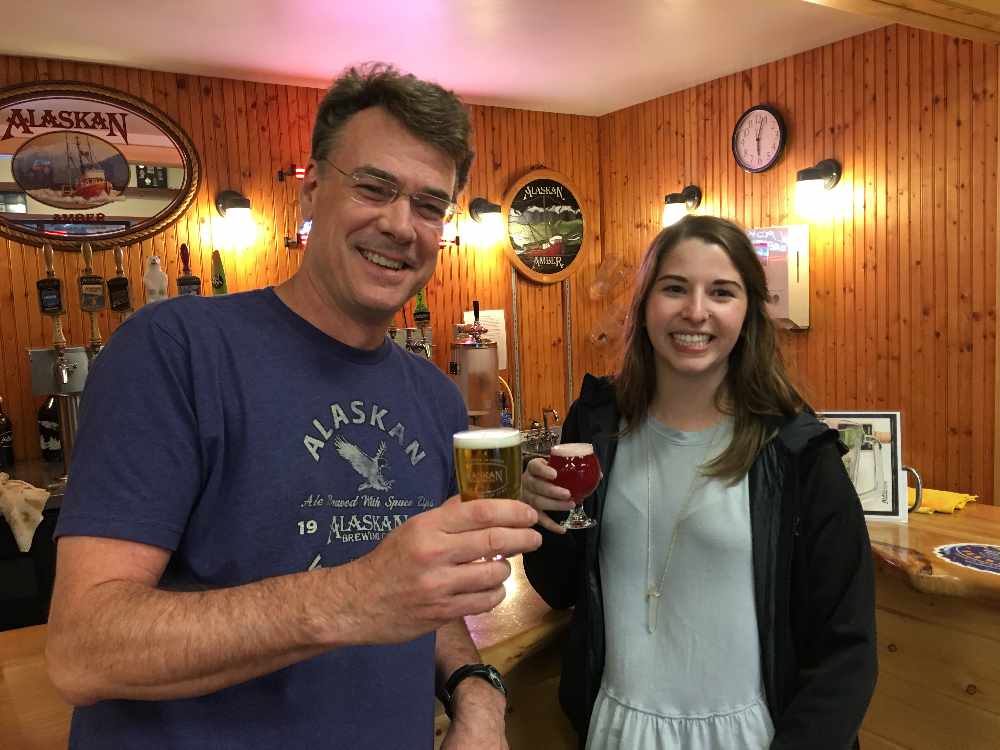 Juneau, AK (KINY) - Alex McCumbers, who is new to Juneau, went to see what makes Juneau's most popular beer so special. He sat down for an extensive interview with Community Manager Andy Kline.
The Alaskan Brewing Company has been a focal point in Juneau's economy, pride, and creativity for many years, ever since the founders brewed that first batch of Amber.
I recently moved here from West Virginia and saw cases of Alaskan Brewing Company beer in the homes of almost everyone I visited and in every store I went to. So, I wanted to tour the brewery to learn more about my new home and the origins of one of Juneau's most popular brews.
I was given the pleasure of seeing what goes into each bottle of an Alaskan Brewing Company beer, from the massive pots that can brew 100 barrels at a time to the packaging lines. Andy Kline the Communications Manager and Laura Steele one of the Marketing Specialists taught me the history of the company and its major innovations as a craft brewery.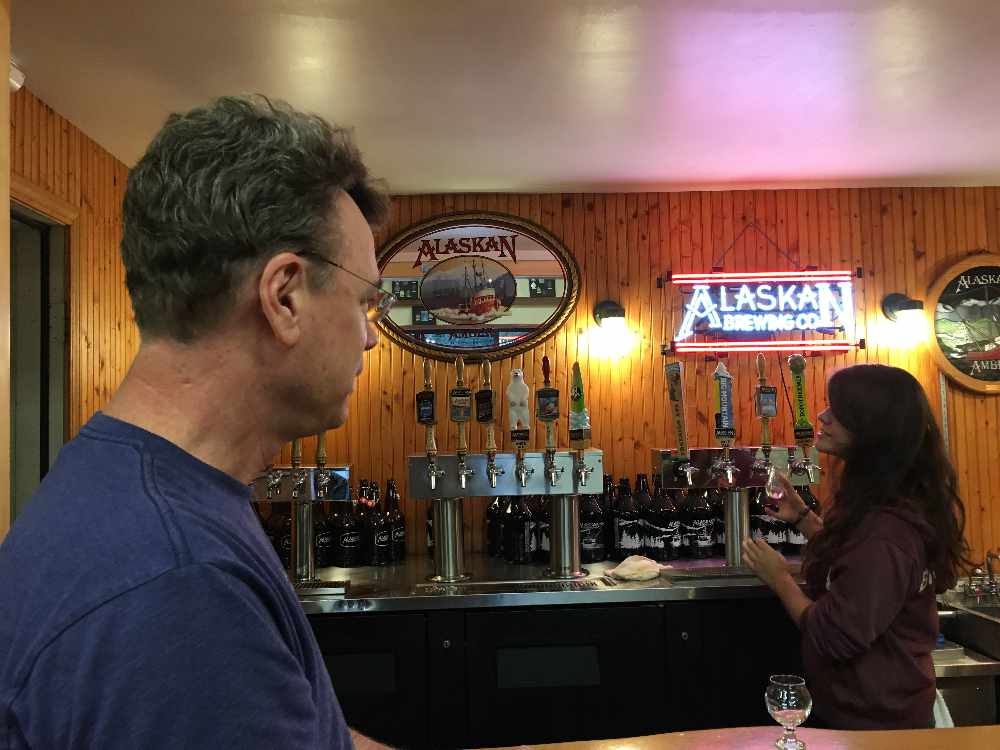 After seeing it all in action, I sat down with both of them for an extensive interview. Asking first about the importance of Alaskan beer to the economy.
"One of our missions here at Alaskan Brewing" Kline began, "is to represent and demonstrate that manufacturing is something that can be done in Alaska and Juneau; something that can be done effectively for the benefit of stakeholders. Those stakeholders can be our community, our employees, actual shareholders of our company, or just consumers who enjoy our beer."
"We feel like what we're doing by creating beer here is we're taking a bunch of raw resources that we're shipping in (most of) and water that's here naturally, taking our expertise and then developing a product out of that. Doing that in a manufacturing sector is a way of multiplying that economic benefit for people, because we have suppliers, employees, and retailers. We're benefiting all of those people by manufacturing a product in Alaska."
I then wanted to know how this beer ties into Alaskan pride and heritage.
"As the Gold Rush affected Alaska, beer came with people who were traveling here to develop this state and develop their livelihood; they were coming to find their riches. Well, they came with some of the small comforts of home and one of those things was the knowledge on how to make beer."
"So, brewing was happening in Alaska in the 1800s and we actually tapped into that historic perspective by brewing Amber. Amber was a beer that's been brewed in Juneau for 120 years or more. Now, there was a big gap there due to the Prohibition, but it's been a historic part of Alaska; it relates to our pride."
"It relates to the fact that we're trying to represent part of what this community is about. There's a rugged individualism to people who were coming here. They wanted to find their wealth; they wanted to make their way in the world. I think our founders Jeff and Marcy found a lot of inspiration in that."
I also asked Kline about expansion plans and strategies to get Alaskan beer to more consumers.
"There's already a really great craft beer culture in the mid-west. People are educated about beer; they're interested in good beer. They might have heard about our brand before, or might have gotten to try it on one trip and have wanted it ever since. There's a pent up demand for our beer in the midwest, so it's an area we've been expanding in recently."
"We just went into Iowa a couple of months ago, we'll be in Illinois soon, we also made it into Ohio and Michigan. Our expansion plans have remained constant throughout the history of the company; they've been conservative, but we also know that we have limitations that are not about our plant or our capacity to brew beer, but is about our supply chain."
"So that's our number one limiter, our supply chain. That said, I think we'll be a nation-wide product, but we have to figure out how to get the beer to those markets without losing quality."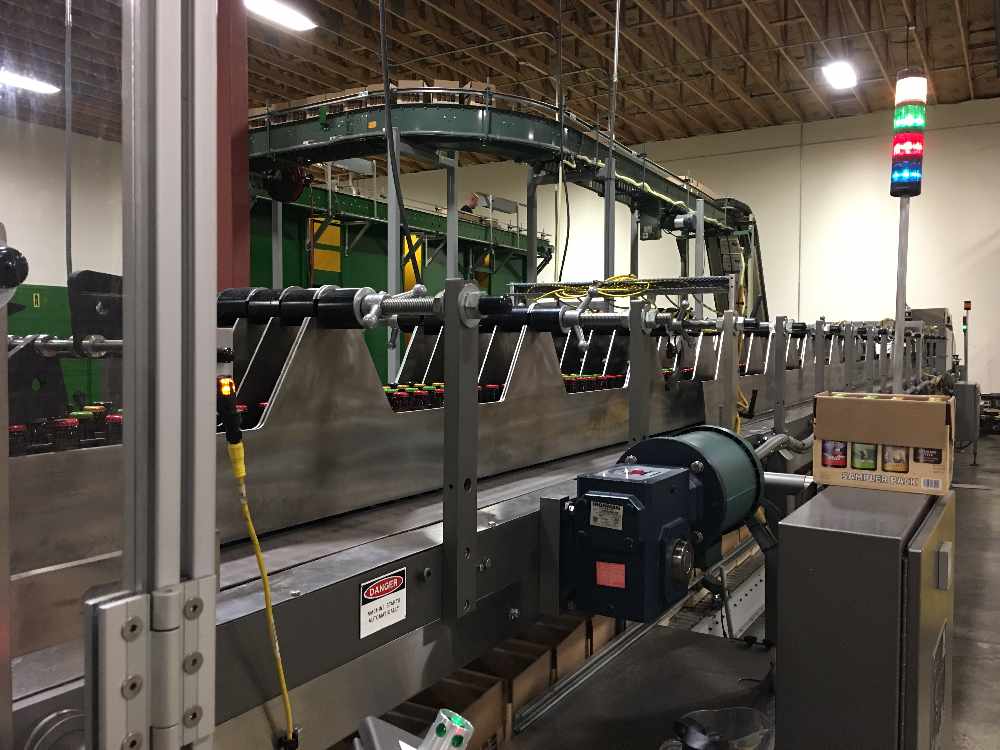 During the tour, there were quite a few environmentally conscious designs that allow the Alaskan Brewing Company to be incredibly sustainable. I asked Kline to elaborate on one of these innovations.
"It's a core part of our values, to be an ethical company. Being ethical means for us being good stewards of the place we live in. So, we are also looking for ways to be economically viable."
"One of the things that drives our outlook is trying to be competitive in a market where other companies don't have the challenges that we have being in Juneau. We have to ship everything out and we have to ship everything in. That has forced innovation."
"One of those innovations was in our use of spent grain as a fuel source. Spent grain is a byproduct of brewing and most breweries can ship it to a nearby farm, which we have done in the past. Yet, when we started using a new process to grind our grain, we realized that we might be able to use that waste as a fuel source. In 2013, we installed the first ever spent grain boiler that allows to take all of our spent grain, burn it, and convert into steam that runs our brewery."
"That's an example of what we call Beer-Powered-Beer. We're saving on diesel fuel that we would otherwise be using. We're saving on that trapped carbon in diesel by using a plant-based product, so we're not introducing more unnecessary carbon dioxide into the atmosphere."
Another way the Alaskan Brewing Company is energy efficient and environmentally conscious is its closed CO2 system. Instead of releasing excess into the atmosphere, they're able to capture that and pressurize it to be used later. Many of the brewery's systems was built on these loops, stemming from economic necessity and the challenges of the area, which also happen to be more effective at keeping the beautiful Alaskan environment healthy.
Lastly, I asked what the future may hold for the Alaskan Brewing Company.
"I would say that the future for us is continuing to be a leader in craft beer, being creative and innovative, and making sure people are asking for us at grocery stores and bars all across America. That's happened so far and we want to maintain that."
Even though I am new to Alaska, I can almost taste that sense of pride already. It's interesting to learn just what goes into each bottle, giving me a newfound appreciation for something that seems so simple and easy to just consume without consideration.
Where should I go next as a new Alaskan resident? Let me know on Twitter @AlexMCCKINY or send me an email at news@abcstations.com