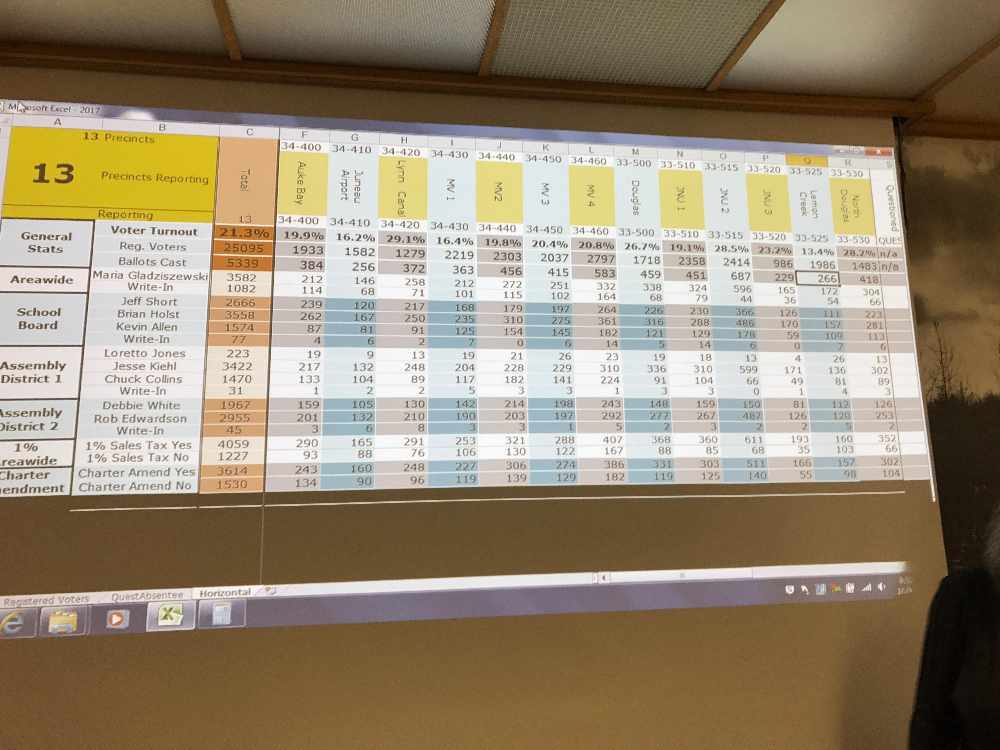 Juneau, Alaska (KINY) - Juneau's local election Tuesday resulted in the defeat of one Assembly incumbent, re-election of two Assembly others and a school board incumbent and approval of the two propositions.
The overall voter turnout at this point is 21 point 3 percent which will increase when upwards of 17-hundred absentee and questioned ballots are tallied.
Assembly District 2 incumbent Debbie White was defeated by Rob Edwardson. The count of the 13 precincts election night showed Edwardson with 2,955 votes to White's 1,967.
Jesse Kiehl was re-elected to his District 1 seat with 3,422 votes. His nearest competitor, Chuck Collins, netted 1,470 votes while Loretto Jones has 223.
Maria Gladziszewski won reelection to her areawide seat with 3.582 votes. There were 1,082 write-ins. Andy Hughes waged a write-in campaign.
School Board President Brian Holst was re-elected to the school board with 3,558 votes. Jeff Short claimed the second board seat up for grabs with 2,666 votes. Kevin All tallied 1,574 votes. Sean O'Brien did not seek re-election.
Both propositions on the ballot were approved by wide margins. Proposition One extending the one percent temporary sales tax for five years received 4059 yes votes compared to 1,227 no votes.
Proposition 2, the proposed charter amendment dealing with competitive bidding was approved 3,614 to 1,530. The change will allow CBJ managers to consider factors beyond low bids.
CBJ Clerk Laurie Sica said there were 1,085 ballots cast at the early voting stations, less than a hundred absentee by mail votes, and about 500 questioned ballots that will be reviewed and counted Friday.
The election is scheduled to be certified Tuesday, October 10