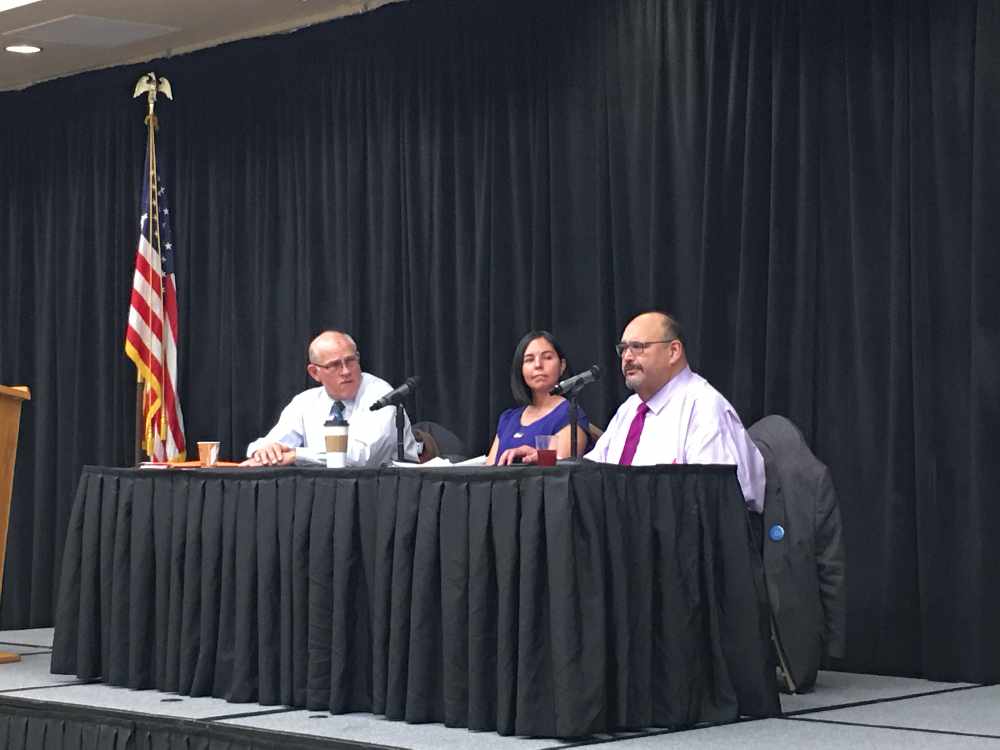 Juneau, AK (KINY) - The Native Issues Forum was held in Juneau Monday night, providing guest speakers the chance to address pertinent issues in Alaska, which is especially relevant considering the special session's focus on crime reform.
The forum gathered three experts in the criminal justice field: Senator John Coghill who sponsored SB91, Chairman Greg Razo of the Criminal Justice Commission, and Talia Eams who is the Program Coordinator of Tlingit & Haida Second Chance. The panel members each talked about the aspects of both Senate Bill 91 and Senate Bill 54, while also sharing stories throughout the state of successful methods.
Senator Coghill wants to keep the intent of Senate Bill 91 in mind as they move forward, while also continuing to study prison statistics to assist with lawmaking.
"We used to have kind of a singular look at crime and that was to put people in prison. We expected programs as people got out would solve it. What we did in Senate Bill 91 is we created several avenues where people could be held accountable differently, whether its ankle monitoring or in programs, how they're held accountable in probation/parole, or how we risk assess them. It was a whole different look at the tools available and are working the best."
"What we found out was the return rate meant people were recriminalizing at two-thirds. For two of every three people coming out were coming back in two to three years."
We also asked Coghill what everyday citizens can do to help reduce crime.
"Part of it is government, because you want police, courts, and jails, but part of what we have to do is turn our noses up to drugs and alcohol problem in America."
Talia Eams sees an incredible amount of value in investing in social assistant programs like Second Chance, which actually had to close its doors due to a lack of funding. She stresses the importance of finding why people are committing crimes in the first place.
"I think it's really important that we address the root causes of incarceration. A lot of that is related to substance use disorders or mental health disabilities, hidden disabilities that we don't know about. For a long time, we've used incarceration as a solution for a mental health program, which is just not right."
"So, the reinvestment dollars from SB91, I feel should be allowed to be realized with full implementation. Programs like the Second Chance Program are really helpful with building relationships with people that previously faced stigma or they were afraid to ask for help or they didn't know where to ask for help. There are a lot of advocates right now, on the ground in reentry, that are not funded."
Richard Peterson, President of Tlingit and Haida is also hoping for more funding for programs that balance accountability with empathy for fellow humans.
"I think it takes the recognition that people make mistakes. We have to be willing to forgive. When I say that, I don't mean a free pass, you've got to hold people accountable as well. We've all made mistakes and we got to kind of have that accountability but willing to move forward."
"Forgive people. Forgive ourselves."
"There are really great programs in this community like Haven House, the Juneau Reentry Coalition. Get out and support those organizations. Get to know people and really be willing to testify and say, 'yeah, we want more public safety,' but we also want to make that when people go through the system, they're coming out with the tools to be successful."