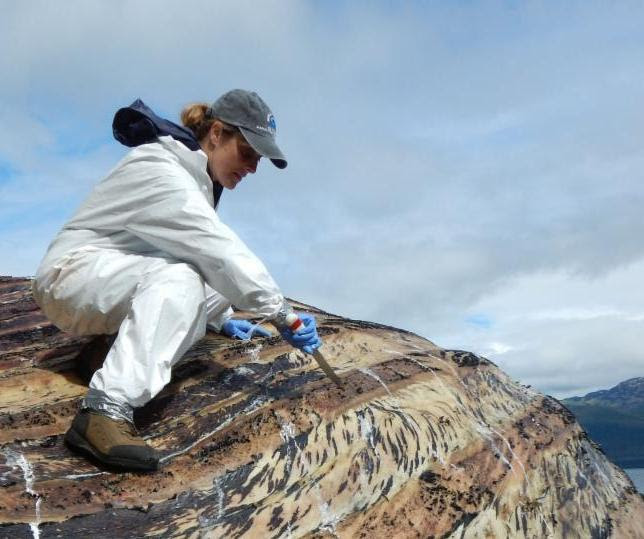 NOAA Fisheries/Margaret Sherman. NOAA Fisheries biologist Alicia Bishop prepares to make an incision on a humpback carcass as part of the necropsy.
Juneau, AK (KINY) - Early results and investigations of a humpback whale that recently washed up on the shore of Admiralty Island show that the whale had signs of hemorrhage, bruising, and a fractured skull. 
The whale had been discovered on the beach on Sunday May 27th.
Julie Speegle, who is the Public Affairs Officer at NOAA Fisheries Alaska Region, filled us in on the process so far and what they have been able to determine at this point.
"So as they conducted the necropsy, they discovered signs of hemorrhaging, bruising, and a fractured skull, which are indications trauma that was likely caused by a vessel strike. We don't want to jump to conclusions. Confirmation of the cause of death are pending lab results. Just preliminary results indicate trauma was the cause of death."
Speegle also wanted to ensure that these are early findings and that they are not saying that it was 100% a vessel that caused the death of this whale.
"The cause of death is preliminary. We don't know if this humpback struck by a vessel, if it was it may have been the cause of death or it may have occurred after the whale was already dead. We don't know that yet, that's why we are waiting for lab results."
While humpback whale populations are on the rise and were removed from the endangered species list, the animals are still protected under the Marine Mammal Protection Act.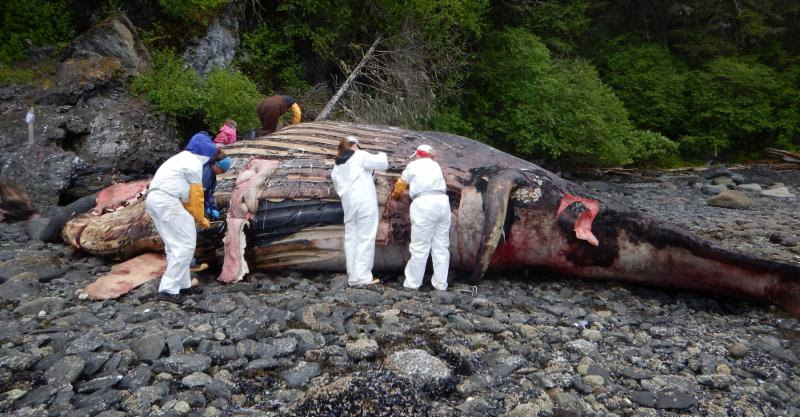 NOAA have yet to receive any reports of a vessel striking a whale; the agency's Office of Law Enforcement are investigating.
According to Kate Savage, who is the lead veterinarian for the necropsy of the whale, said that a confirmation of death is waiting on lab results and won't be available for at least six months. Savage also wanted to thank the public in the assistance, "The quicker we get reports on marine mammal strandings, the more information we can get when we perform a necropsy, so we certainly appreciate timely reports from the public in a case like this."
NOAA also wanted to remind folks that if a whale or other marine mammal is discovered or is in distress to call the NOAA Fisheries Alaska 24-hour Stranding Hotline at (877) 925-7773.