Sealaska Heritage Institute (SHI) has released its first Tlingit apps for students who want to learn their Native language through mobile devices.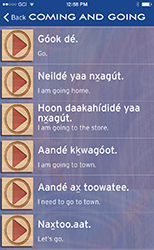 The "Learning Tlingit" app includes sections on vocabulary, phrases and the alphabet. The vocabulary includes seventeen categories, including animals, fish, food, geography and plants. As users click on each category, a list of words is revealed and students can learn the Tlingit spellings and hear the words spoken in Tlingit. The phrases section includes categories for coming and going, feelings, introductions, learning Tlingit and meal time and the alphabet section allows students to learn how to pronounce each sound. The app also includes a searchable index and a link to language podcasts, which will be available soon.
SHI President Rosita Worl says the institute will continue to add new content through updates. Desktop versions of the games are available in the language resources section at sealaska heritage dot org. It's free and SHI plans to produce Haida and Tsimshian versions in the future.