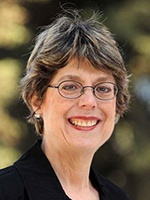 Rep. Gabrielle LeDoux (R)
Juneau, Alaska (KINY) Rep. Gabrielle LeDoux (R-Anchorage), Chair of the House Rules Committee, has pre-filed legislation to address future instances of sexual and other forms of harassment and discrimination in the Alaska Legislature.
House Bill 276 requires violations of the legislature's harassment and discrimination policies be referred to the Select Committee on Legislative Ethics.
The Ethics Committee, which consists of two senators, two representatives, and five members of the public ensures compliance with and investigates violations of the Alaska Legislative Ethics Act. The Ethics Committee can recommend punishment for lawmakers that violate the Ethics Act. "For too long, sexual harassment and discrimination have been tolerated and overlooked in the halls of the Capitol. The current outdated policy, which we are working to update, allows members of leadership in the House and Senate to address alleged violations of the policy. HB 276 takes this decision out of the hands of legislators and instead places it with the Ethics Committee, which is a less-political body with representation from the public," said Rep. LeDoux. "I am confident that enabling the Ethics Committee to review violations and deal with the guilty sends a clear message that harassment in any form will not be tolerated in the Alaska Legislature."
HB 276 is part of a broader effort by the leadership of the Alaska House Majority Coalition to ensure a safe and respectful workplace in the Alaska Legislature. All members of the House and their staff are required to take sexual and other harassment training, and the current flawed policy is being updated by a special subcommittee of the joint Alaska Legislative Council. "My pledge to the people of Alaska is that we will examine every available option to prevent harassment. This effort may prompt some difficult and uncomfortable discussions about acceptable behavior, but those discussions must happen," said Rep. LeDoux. "Anyone unwilling to change their behavior or who thinks it's okay to harass another person does not belong in the Alaska Legislature. I look forward to a lively debate about HB 276 but I believe it's a debate well worth having."
House Bill 276 will be formally introduced and receive committee assignments when the Second Session of the 30th Alaska State Legislature gets started on Tuesday, January 16th in Juneau.
The legislature has had two well publicized incidents of sexual harassment reported in recent months. State Rep. Dean Westlake resigned in December. Senator David Wilson was exonerated of the allegation made against him.