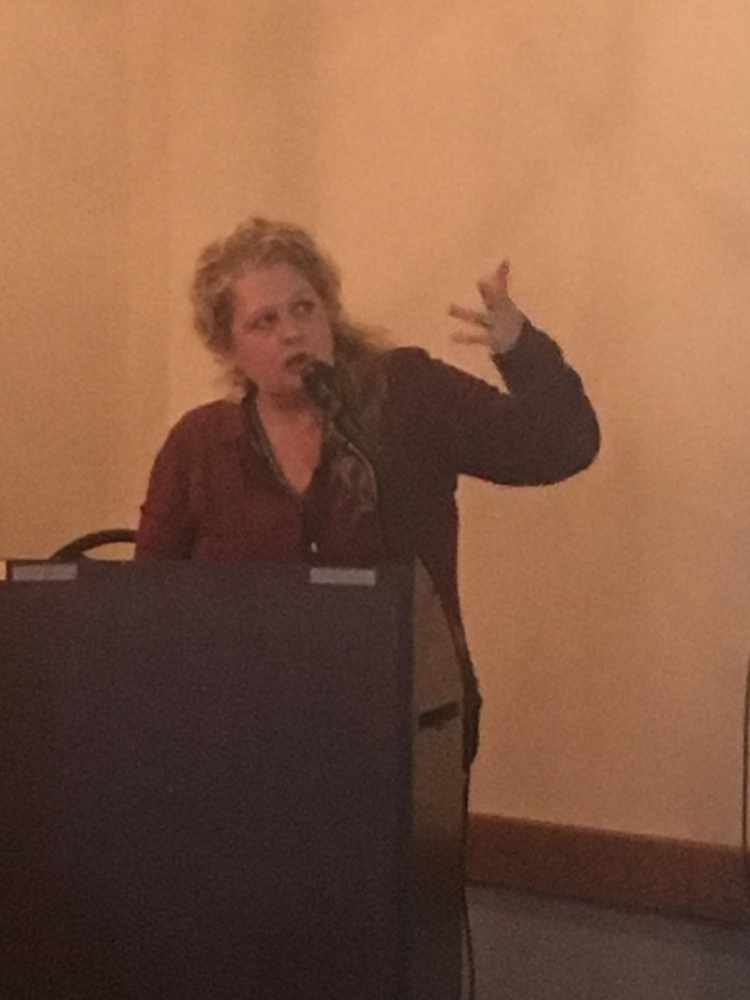 Airport Manager Patty Wahto
Juneau. Alaska (KINY) Concerns from future tenants have slowed progress on the phase 2 terminal reconstruction at Juneau International Airport.
Airport Manager Patty Wahto was the featured speaker at the Greater Juneau Chamber of Commerce weekly business round table luncheon today.
The expansion is expected to cost $38 million. The airport currently has $15 million on hand for the project, just over $8 million provided by the Federal Aviation Administration (FAA) and $6.9 million from a local bond.
The terminal expansion was identified in a 2005 master plan. In 1984 the airport spent $23 million on a terminal renovation. The terminal was first built in 1949 for the cost of $140,000. The City purchased the airport in 1953 and added a second story to the terminal in 1957. The airport was renamed the Juneau International Airport in 1976.
Wahto said the goals of the master plan were to reduce operating costs, modernize infrastructure and improve passenger experiences. Enplanements, or those people boarding planes in Juneau have risen steady by between 4.2 and 7.0 percent in the past few years.
"You have to take care of your infrastructure. The way this building was put together kind of put a big question mark on it. How are you going to do it? How are you going to take care of this building that has so many different layers to it," she asked.
One improvement they want to make is a switch from diesel power to the geothermal system that would save the airport money on energy costs.
They also would like to alleviate congestion out front and add a freight baggage drop off zone for the regional carriers. Another project being considered for the future is a parking garage to alleviate the parking problem. They currently have aging infrastructure and staff has to share space. The business manager, for example, has an office that is also a break room.
The airport had hoped to have demolition begin next April. "Demolition would go pretty fast. We have a lot of things identified. Do one area, let them move in, then continue with the demolition. We had that in mind. We'll take a quick break and see where we go."
"We had nine hours of meeting Tuesday with user groups and tenants with our consultants. They had seven pages of questions they wanted answers to," she added.