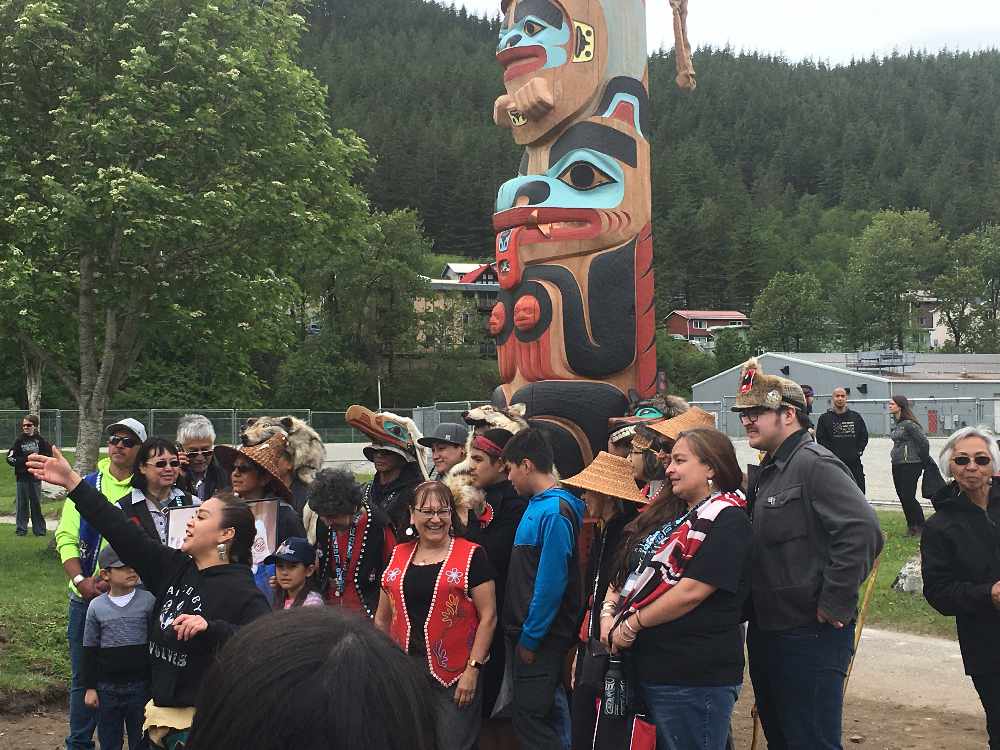 Juneau, AK (KINY) - Goldbelt Heritage and the Douglas Indian Association held a ceremony for the wolf totem pole that was raised to honor the T'aakú Kwáan and the residents of Akáx Yaa Andagán Douglas Indian village that was destroyed in a 1962 fire.
At the time, the City of Douglas had ordered the burning of the houses in the village to put in Savikko Park and Douglas Harbor. Many of the Natives had been out fishing while their neighbors set fire to their homes.
Despite the rain and cold in the early morning, tribal leaders honored all who were involved in crafting the totem pole and explained the history of the tragedy. It was a time to acknowledge the past, but also to celebrate happier times through song and dance. There was sadness to be shared, but it was also a time of togetherness, of strength in unity. Throughout the ceremony, hugs and gifts were shared.
Lt Governor Byron Mallot was in attendance and gave some thoughts to those gathered.
"The totem pole strengthens all of us and we want you to know that we stand with you. Whatever our strength is, is also yours."
Shane Brown, one of the carvers of the Totem, spoke on how honored he was to work on the pole.
"I was privileged to carve on the 40-foot totem. I've been working with Goldbelt Heritage for the past year and a half. I was privileged to accompany the contracted carvers to the completion of the pole."
Brown also told us on the important connection to youth.
"Having it hosted there at Harborview has certainly made a connection within the international presence that Juneau occupies for our youth. Having their delighted smiles and watching their progress of the two totem poles shared with them in the last three years that we've been present has been the most rewarding thing out of the initial projects themselves."
"Knowing that the influence we are making on them is going to hopefully make an impact on their livelihood, as well as knowing what the totem pole stands for to help honor us as a people."
The totem pole now stands as a reminder of what was once there, but was never truly destroyed.