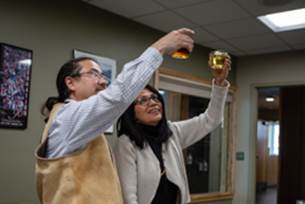 Juneau, AK (KINY) - Sealaska Heritage Institute (SHI) has announced the winners of its traditional food contests, held as part of Celebration 2018.
Entries were rated on taste, color, smell, and freshness. Two new categories were added this year, best seal oil and best seal oil with crackling fat.
Racean Fredrickson of Angoon took 1st place for best seal oil; Don Bolton of Metlakatla took 1st place for best seal oil with crackling and 1st place for best seaweed. Second and 3rd place awards for seal oil went to Roberta Revey of Kake and Bolton; 2nd and 3rd place for seal oil with crackling went to Fredrickson and Wanita Bunny James of Kake; and 2nd and 3rd place for seaweed went to Linda Rae Shearer of Metlakatla and Johnny Jack, Jr., of Angoon.
The event also featured a demonstration on how to make soapberries by Louise Gordon, who won SHI's first soapberry contest in 2008.
SHI puts on these contests in the hopes of introducing young people and the public to traditional Native foods and to highlight the health benefits. According to SHI President Rosita Worl, subsisting off of the land also ties Native people together.
"Subsistence really is the basis of our culture—and it is the sharing of our food and resources that bind us together as Native people," Worl said. "We developed a socioeconomic system where we were harvesting foods but at the same time we were sharing them."
SHI Chair Marlene Johnson told a crowd at Centennial Hall that she puts up smoked gumboots, coho salmon, sockeye salmon, sockeye strips, canned halibut, soapberries, apple butter, wild strawberry jam, najoon berry jelly and seaweed every year.
"I would say a good 50-75 percent of my food is natural food," Johnson said.
Desiree Jackson, a nutritionist with the Southeast Alaska Regional Health Consortium, said traditional foods, such as salmon, seal oil, herring eggs, seaweed and seal meat, are so healthy that parents should be introducing them to babies and that mothers should be eating them during pregnancy.
"Our foods are mega-nutrient-packed and those are the foods that our kids and our people need to have exposure to," Jackson said. "Berries are off the charts in antioxidants. Those were our multi-vitamins back in the day."