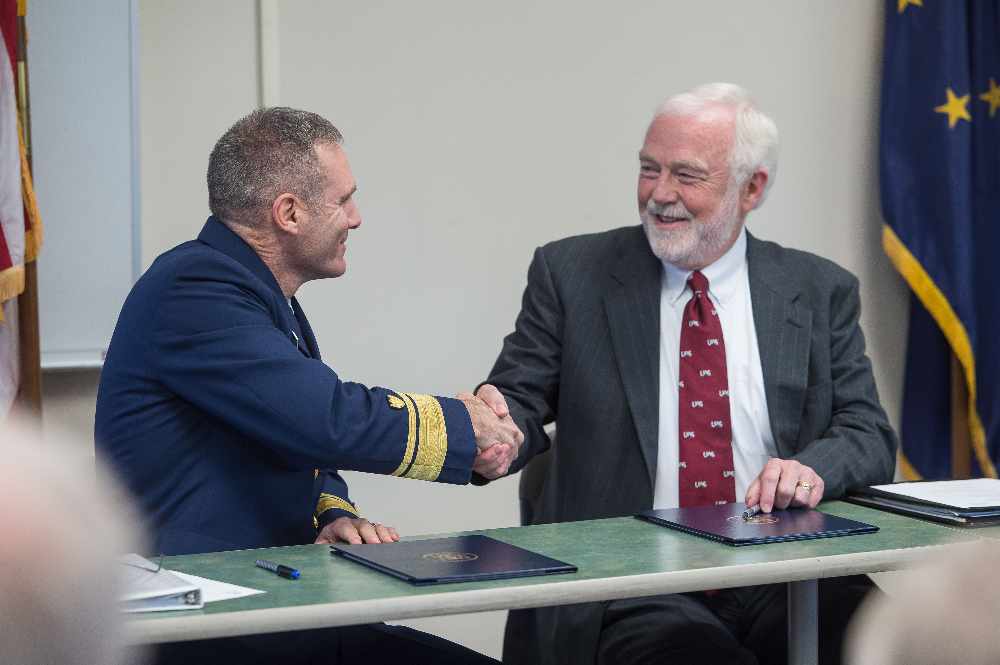 JUNEAU, SITKA, KETCHIKAN, (KINY) The University of Alaska Southeast expects a good response for the Pre-Commission initiative with the U.S Coast Guard.
UAS signed an agreement this month with the US Coast Guard establishing a partnership for the College Student Pre-commissioning Initiative (CSPI). USCG District 17 Commander Rear Admiral Michael McAllister and Chancellor Rick Caulfield signed the agreement on October 9 during a special meeting of the UAS Juneau Campus Advisory Council.
CSPI is a program designed for motivated individuals who demonstrate a high caliber of academic and leadership excellence and who desire to serve their country in the United States Coast Guard. Students currently enrolled, accepted for enrollment or pending enrollment in a full-time bachelor's degree program at UAS with the desire to complete college and receive a guaranteed commission as an officer in the United States Coast Guard can apply for CSPI. This means that a student currently pursuing an AA/AS degree at UAS who plans to continue with their BS/BA degree may be eligible for CSPI if they are accepted for enrollment.
Students who are accepted into this scholarship program will be enlisted into the United States Coast Guard, complete basic training during the summer, and receive full funding for up to two years of college. Funding includes not only payment of tuition, books, and fees, but a full-time Coast Guard salary, housing allowance, and medical benefits. "Southeast Alaska has a great maritime industry, and it is important to educate young people about marine-related career opportunities, including those in the Coast Guard," Chancellor Rick Caulfield said. "This program is intended to build a more diverse Coast Guard presence in Alaska, and to create opportunities of Alaskans to join in supporting the Coast Guard's mission."
Those interested are encouraged to contact Deb Rydman, UAS Career Services, at 907-796-6000 or visit www.uas.alaska.edu/career_services/uscg_cspi_scholarship.html for full details on the program and the application process.