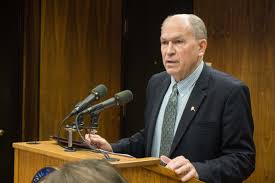 Alaska Governor Bill Walker
Juneau, Alaska (KINY) Alaska Governor Bill Walker focused on the budget and economy but also took time to speak about education, public safety and health care during his annual state of the state address Thursday night.
Walker urged both chambers of the legislature to get a budget approved on time which addresses the state budget deficit, estimated at $2.5 billion.
His plan calls for a 1.5 percent broad based tax on Alaskans. Senators have been reluctant to embrace the idea. He said the state has already taken $14 billion out of reserves and has little to show for it. The new tax proposal would designate funds raised for infrastructure projects and improvements Walker said will put people back to work.
He also took a stab at those that only want to cut government services. He noted state jobs are at the lowest point in 15 years.
"The cut only plan is no plan at all," he told lawmakers.
Another area of disagreement has been the state's permanent fund and how much to use to balance the state budget.
The price of oil has increased but still only would cover about 30 percent of state revenues, down from a high of over 90 percent at one time.
Walker said his administration helped cut health care costs by 26 percent in the past year. He also has budgeted $34 million for public safety and has put more of a focus on the fight against drugs and crime.