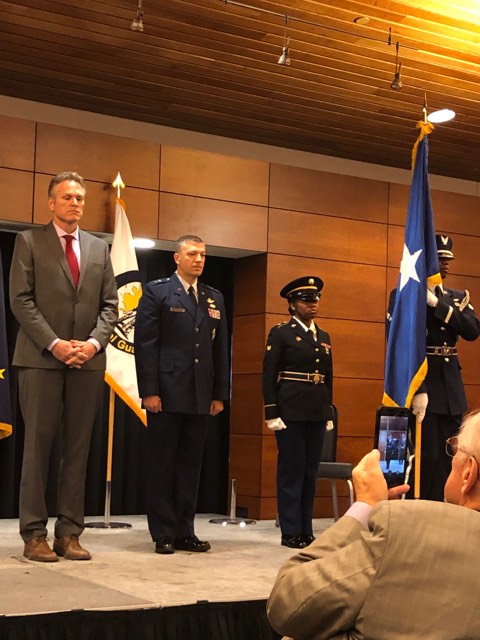 Gov. Mike Dunleavy (left) with Maj. Gen. Torrance Saxe at his promotion ceremony on Tuesday.
Anchorage, Alaska (KINY) - Alaska's Adjutant General, Torrance Saxe, has been promoted from Brigadier General to Maj. General.
Saxe, an Air Force veteran, is also serving as the governor's Commissioner of the Department of Military and Veterans Affairs.
Major General Saxe entered the Air Force in 1995 as a distinguished graduate of the Officer Training School, Maxwell AFB, Alabama.
His first assignment was at Malmstrom AFB, Montana, where he served as both Flight Commander and instructor for the Intercontinental Ballistic Missile mission. Brigadier General Saxe is a former detachment commander at Royal Air Force Feltwell, United Kingdom, and executive officer for the 21st Operations Group, Peterson AFB, Colorado.
He has also served on the staff at Headquarters Air Force Space Command as a Space and Missile Assignment Officer. Major General Saxe joined the Alaska Air National Guard in 2004, serving in various positions at Clear Air Force Station, Alaska, to include assignments as commander of the 213th Space Warning Squadron and the 13th Space Warning Squadron.
As the 13th Space Warning Squadron commander, he also served as the Federal Installation Commander. His next assignment was as the 176th Maintenance Group Commander, Joint Base Elmendorf-Richardson, Alaska.
Prior to his current position, Maj. General Saxe was the commander of the 168th Wing, Eielson AFB, Alaska.