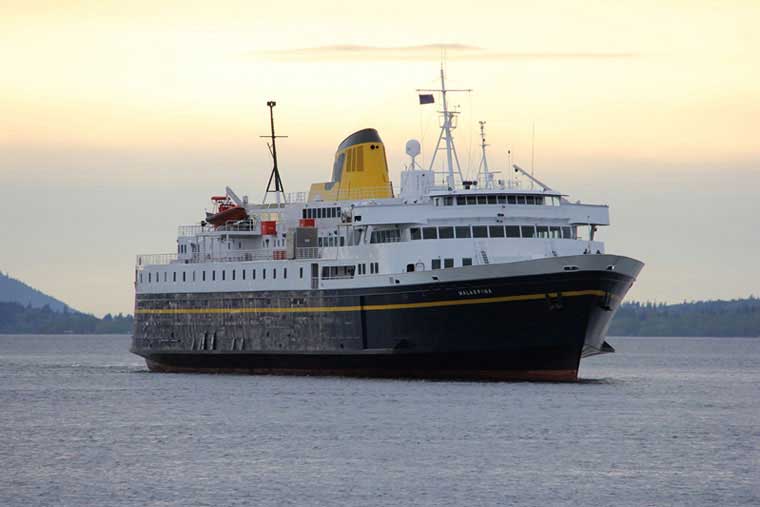 Washington, DC (KINY) – U.S. Senators Lisa Murkowski and Dan Sullivan announced Wednesday the Federal Transit Administration is awarding more than $285 million of investments to improve the reliability and service of Alaska's ferry system, which serves more than 30 communities across 3,500 miles of coastline.
The funding, all awarded to the Alaska Marine Highway System, is designated to replacing an aging vessel, upgrading ferry dock infrastructure in rural communities, modernizing four vessels, procuring an electric ferry, designing a new mainliner vessel, and generating sustainable operations.
This landmark funding was made possible by H.R. 3684, the Infrastructure Investment and Jobs Act (IIJA), in which Senator Murkowski played a lead role in writing and negotiating for Alaska.
These awards are the first of the IIJA's newly established Ferry Service for Rural Communities Program and the Electric or Low Emitting Ferry Pilot Program. Additional funding grant funding from these programs will be available to the AMHS in fiscal years 24, 25, and 26.
"Having grown up in coastal communities that rely on the Alaska Marine Highway System, I've always understood the importance of Alaska's ferry system. That's why it was one of my top priorities when I helped craft the bipartisan infrastructure law—one of the most consequential legislative efforts I've work on during my time in the Senate. I'm proud to have led the charge on this historic investment to upgrade our aging ferry fleet and hopefully restore connections throughout our coastal communities—specifically through the Ferry Service for Rural Communities program I created with rural Alaskans in mind," Senator Murkowski said. "Thanks to the infrastructure law, the state will receive over a quarter of a billion dollars to ensure that this vital mode of transportation can continue. Whether it's modernizing current vessels, upgrading dock infrastructure in rural communities, to investing in sustainable transportation—I trust the State will capitalize on the opportunities of these grant awards for the betterment of Alaskans."
"The vast majority of communities in Alaska have no connection to the road system, making ports and ferries as essential as roads and highways, and a critical area of responsibility for the federal government," Senator Sullivan said. "The funding awards announced today are great news for the thousands of Alaskans who rely on the ferry system, which serves an enormous expanse of coastline—roughly the distance between St. Louis and San Francisco. These funds will help deliver a safer and more reliable means of transportation by updating existing AMHS vessels, finally procuring a replacement for the Tustumena, and repairing deteriorating portside infrastructure. I commend Senator Murkowski for her work to ensure Alaska's ferry system was prioritized in the 2021 Infrastructure Investment and Jobs Act. Through my seat on the Commerce and EPW Committees, I will continue to fight to bolster Alaska's ports and ferries, which are vital to the economic interests and well-being of Alaskans across Southeast, the Gulf and the Aleutians."
Funding Details: (over $285 Million is being awarded to six Alaska Marine Highway System projects.)
1. $72 Million for the Modernization of Four Critical AMHS Vessels Necessary for Service and Environmental Benefits.
Total Project Cost: $90,081,932
Federal Request: $72,065,546
State Funded Match: $18,016,386
Announced Award: $72,065,545
2. $68 Million to Replace the M/V Tustumena Vessel Serving Rural Southwest Alaska.
Total Project Cost: $85,610,480
Federal Request: $68,488,384
State Funded Match: $17,122,096
Announced Award: $68,488,384.00
3. $45 Million for Critical Upgrades to Ferry Dock Infrastructure in Five Rural Alaska Communities.
Total Project Cost: $56,848,018
Federal Request: $45,478,414
State Funded Match: $11,369,604
Announced Award: $45,483,214.00
4. $46 Million to Cultivate a Systems Approach to Sustainable Transportation by Implementing Climate Responsive Ferry Vessel Options.
Total Project Cost: $57,767,509
Federal Request: $46,214,008
State Funded Match: $11,553,502
Announced Award: $46,214,008
5. $8 Million for Anticipating Future Service & Replacement Needs by Designing a New Alaska Mainliner.
Total Project Cost: $10,739,520
Federal Request: $8,591,616
State Funded Match: $2,147,904
Announced Award: $8,591,616

6. $44 Million to Restore the Health of the AMHS for Sustainable Operations to Rural Communities.
Total Project Cost: $89,647,600
Federal Request: $44,823,800
State Funded Match: $44,823,800
Announced Award: $44,823,800
As a lead author of the bipartisan infrastructure law, Senator Murkowski included various programs that will benefit Alaska for generations to come, including: