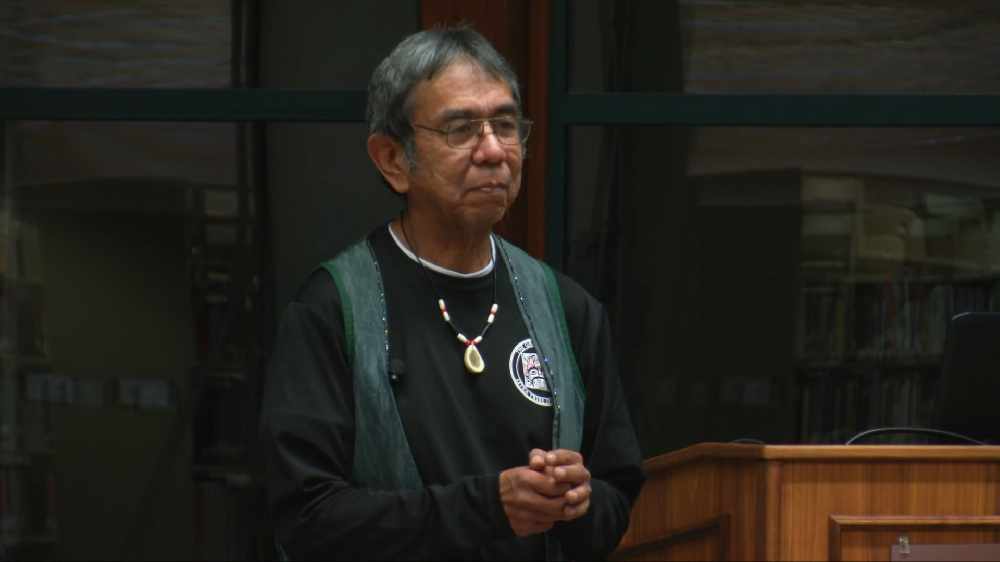 Juneau, AK (KINY) - Bob Sam, a Tlingit Storyteller and UAS Visiting Scholar, spoke at the latest Evening at Egan held at the UAS campus where he spoke about reburying remains and truly respecting ancestors.
Even at a young age, Bob Sam was eager to help take care of cemeteries. He grew up in Sitka, but his family was from Juneau. As a five-year-old, he told his grandmother that he would help keep the cemetery clean by clearing our trees and cleaning the gravestones. When he grew older, he decided to pursue a higher education and wanted to live in a city.
"Just like everybody else," he said, "I left the village. I wanted a modern life. I wanted education. I wanted to live in a city. I wanted to get away from my culture, get away from my community and I did. Yet, always I thought about these places."
Spending much of his career as an electrician, Sam had few complaints financially but he felt that something was missing, his ancestors. Eventually, he returned to Sitka and stayed in a hotel to visit. On a walk through town, he stumbled across construction at a place where he knew there were graves. There he discovered construction workers tearing up coffins with heavy equipment.
"I went up there to see what those construction guys were doing and they were taking a backhoe and digging up the ground. They were pulling coffins out of the ground. They would break the coffins in half and human remains would be falling out."
"They destroyed a whole cemetery."
"They were taking all of the artifacts, rings, necklaces, teeth, bracelets, bones, and throwing those things into the bushes. I have never forgotten that."
"I had to do something," he recalled saying to himself at that moment. From there he gathered the remains that were unearthed and spent three years reburying, all the while he rarely spoke and felt anger at the people who caused the injustice.
Now Sam works in returning remains to their rightful place in Alaska. He is currently assisting the Native American Boarding School Coalition, helping Tribal Nations seek repatriation of children that were buried across the nation. In Carlisle, PA, thirteen Alaskan children were discovered with four of them being from Ketchikan. In December, Sam will be traveling to Colorado to look for Alaskan children there. Over 250 Alaskan children were taken to boarding schools between 1878-1917; many were never returned home. Sam's work brings them back to Alaska in a deeply respectful way.
"Tlingit culture is in a renaissance! Our language is coming back. Our culture is here. Our young people are singing and drumming and dancing and they are proud of who they are and they know where they come from. All my work is part of it because the sign of a healthy community, a sign of a healthy people is a clean cemetery."
The full lecture is available online through the UAS YouTube channel.