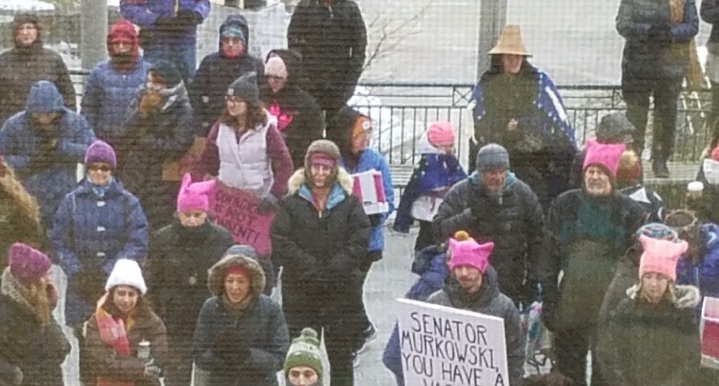 Many bundled up for the cold weather at the 2020 Women's March in downtown Juneau on Saturday.
Juneau, Alaska (KINY) - Despite Taku winds and freezing temperatures, hundreds came out to the 2020 Women's March at the Alaska State Capitol on Saturday.
Rep. Sara Hannan and Rep. Andi Story spoke to those that were gathered to celebrate the fourth year of the event, which is also being marked in New York, Washington D.C., Los Angeles, and Chicago, among other major cities.
Hannan said fighting for equality is a fight that never ends.
"It doesn't matter what the weather is... you are bound to each other... to hold each other up... to make sure all of us are represented and have opportunities to live our authentic lives," Hannan said. "This year we will celebrate 100 years of white women getting the right to vote, but we will still fight to make sure all people are represented in our democracy."
Rep. Andi Story said she praises those who were activists in years past for the rights of women.
"It was my mom's 84th birthday this week," Story said. "And I want to thank all those moms and women who came before us to get us to where we are today."
Rep. Story also encouraged more women to serve in municipal government, noting that 40 percent of the state legislature membership during the 31st session is comprised of women, all while giving a nod to the "great" job Senate President Cathy Giessel is doing.
"There are 200 positions to serve in city government and committees, and only 25 percent of them are women," Story said. "So contact our city clerk and see what those positions are and think about getting out there."