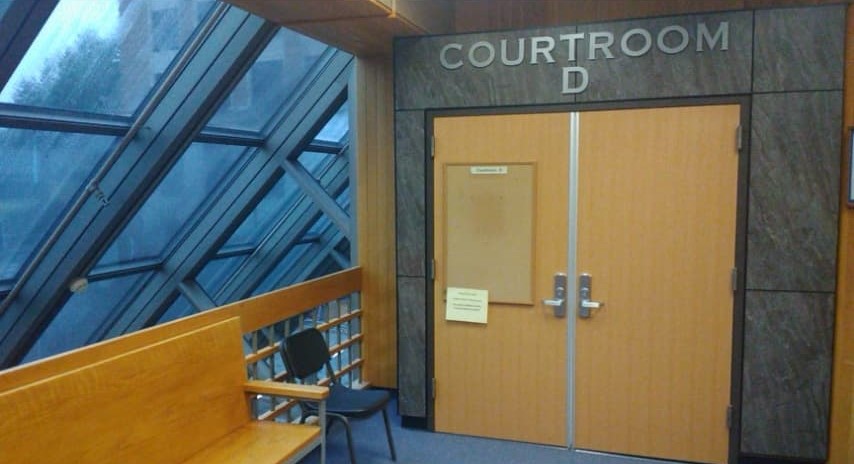 Courtroom D at the Dimond Courthouse in Juneau.
Juneau, Alaska (KINY) - The double-murder trial of Laron Graham continued Tuesday at the Dimond Courthouse in Juneau.
Graham is accused of shooting to death two people, Robert Meieres and Elizabeth Tonsmeire, at a West Juneau apartment in November of 2015.
A jury of nine women and five men were sworn in to hear the case against Graham. A juror was dismissed last week.
Prosecutors contend that Graham shot Meieres in the head after a drug deal went bad and the victim used a racial epithet. The state alleges that Graham then shot Tonsmeire because she witnessed the shooting.
Testimony started on Tuesday with Juneau Police Department officer James Esbenshade. He told jurors about the scene of the double murders when he arrived at Elizabeth Tonsmeire's apartment.
"When I entered the condo, I saw a male laying on his right side with a lot of blood around his head ... and on the couch, a female with her back to me ... initially, the female looked like she was sleeping," Esbenshade said.
Esbenshade testified that he checked her for a pulse and discovered none. He also added that he saw crusted blood on a part of her nose.
Another JPD officer, John Cryderman, testified that he made contact with Kelly Tonsmeire, Elizabeth's father, after Kelly discovered the bodies and called authorities.
"He appeared shocked," Cryderman told the jury.
JPD Sergeant Brian Dallas also testified that he was one of the first officers on the scene, along with Esbenshade and Cryderman.
On Thursday of last week, prosecutor John Darnall showed the jury photos taken at the crime scene. The photos included scenes of the two deceased individuals.
Also last week Meghan Kennedy-Brown testified that she was on duty when Kelly Tonsmeire called 911 in relation to finding Elizabeth's and Meieres' bodies in her apartment. She told jurors she was the dispatcher that received the call from Kelly.
Some of the 15 jurors were visibly shaken when they heard an audio recording of the emergency call, with at least one of the jurors seen wiping away tears after hearing the audio.
Graham told the court that he intends to testify at the trial.
The entire jury will hear the case. At the close of the trial, two alternates will be randomly selected and the remainder will consider the verdict.