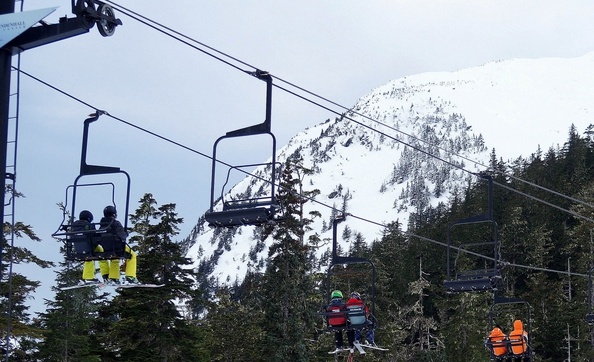 Juneau, Alaska (KINY) - Eaglecrest joined Capital Chat to talk about how they're wrapping up the season.
Kristen Strom, the Marketing Manager for Eaglecrest, explained what to expect.
"Got another beacon scramble coming up the weekend of the 25th and 26th of March, basically where the Coastal Avalanche Center will come and hide like five or six beacons around the mountain and people can go and they go out with their beacons, and try to find them. They unscramble a word, it's like a password and they send it in," she said. "Then that same weekend, we also have the Juneau Skimo Uphill race, which has been previously dubbed as the Powderkeg Cup, but it's basically this uphill race. We'll go up Log Jam and up Raven, up to the top of the ridge, and all the way over to Black Bear and back down. So it's a new route. It's new fun, same kind of event, and that's coming up 25th of March as well."
Eaglecrest also has plenty planned for the closing weekend itself.
"We have the big end-of-season party is going to be both April 8 and ninth. Closing weekend! April 9th is Easter so we'll be having some sort of Easter event an egg hunt, something for the kids, so that'll be great," Strom said. "Then April 8 will be kind of more of the traditional end-of-season party."
The end-of-season party will include a DJ, a barbecue, a potential beer garden, and a component that hasn't been disclosed yet. Strom said to check Eaglecrest's social media for updates. It will be the first end-of-season party since the pandemic.
Strom also gave a general season review.
"Everybody can attest it's been kind of a season where we've seen every type of condition. Sun, snow rain, in between, hardpack, lots of powder days. We had those streaks come back in February where we just had a couple of inches every day and that was awesome," she said. "Then we just had a week of the straight sun which was great, and now we're back to snow. So it's just been kind of a roller coaster, but it's been a great season, lots of events."
Their current snowfall total is around 360 inches for this year. They had a record-breaking February with 22 days straight of snow.