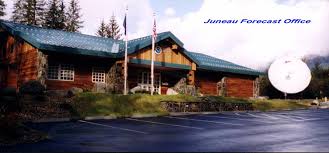 Juneau Forecast Office issues Flood Watch for the area
The National Weather Service has issued a flood watch for the Juneau area into Monday.
With 2 to 4 inches of rain in the forest through late Sunday night area waterways are expected to rise as a result. Mendenhall Lake, Montana Creek, and Jordan creek are forecast to rise and crest late Monday morning at bank level
The Juneau Forecast Office reports that no flooding is expected at this time although it will continue to monitor the situation.
Water could inundate Jordan Square's front and back parking lots and around Jordan Creek office condominiums with up to one foot of water. Some residential driveways could be flooded and cut off. On Montana Creek Road water could become 3 to 6 inches deep at the low water crossing. Other small streams and rivers could exceed bank full conditions with some minor nuisance flooding, according to the weather service.