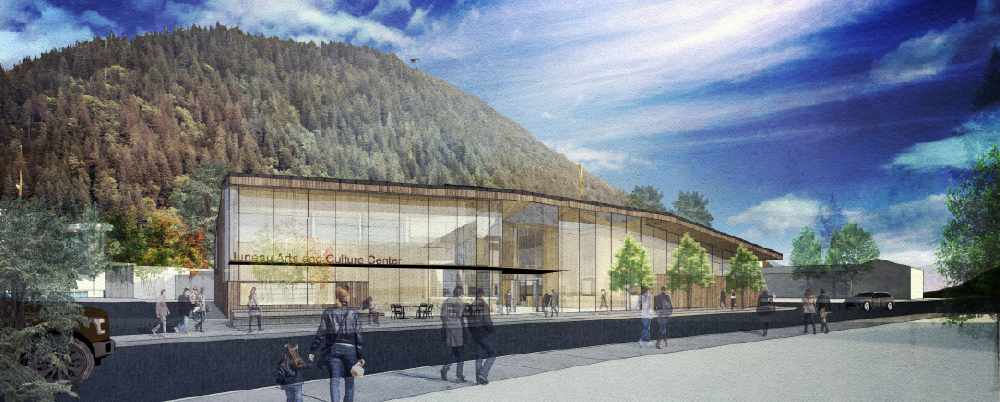 An artist's rendering of the New JACC.
Juneau, Alaska (KINY) - The Partnership, Inc., the non-profit which exists for the purpose of raising the funds to build the New Juneau Arts & Culture Center, has announced the donation of $50,000 by the Smith family of Juneau in honor of their mother Betty Jane Smith.
Betty moved to Juneau in 1945, and was a supporter of the arts in the Capital City.
The Partnership has set levels of contributions to the New JACC that allow for donors to name component parts of the building for themselves or others they wish to honor. At the $50,000 level, donors have the opportunity to name one of the upstairs offices in the non-profit wing, which will house arts organizations and other local businesses when the New JACC is open and operating. One of these offices will be named to honor the memory of Betty Jane Smith.
In addition, six other spaces in the building have been named to date: The Atrium Stage, the Fireplace Sitting Room, the Patio/Sunroom, Dressing Room 1, the Second Floor Meeting Room, and the Gift Shop.
According to JAHC's Ben Brown, over the past few years, the New JACC Partnership Capital Campaign has made steady and impressive progress towards the goal of building a dedicated arts and culture facility for Alaska's Capital City. There are now 111 major donors who have contributed $10,000 and above alongside substantial grants from an array of businesses and foundations.
When presenting the donation, Betty's children said, "We want to honor our mother by contributing to a facility for the next generation of artists and audience members. We particularly appreciate the Juneau Arts & Humanities Council's role in supporting the quality of life in Juneau. Hopefully our family's contribution will inspire others to contribute so that we will all enjoy the New JACC in the very near future."
Partnership Executive Director Katharine Heumann noted, "The Partnership is so grateful to the Smith afmily for this wonderful contribution which brings us ever closer to our goal. It is truly inspiring to have long-time Juneau residents investing in the future of life here in Alaska's Capital City."